In this week's Flathead Beacon, the Flathead Valley's weekly newspaper, staff writer Dillon Tabish takes an important look at the effects of Montana's alcohol licensing quota system.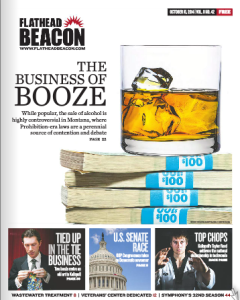 In Liquor License Lockdown Tabish traces the dashed dreams of a restaurateur hoping to help revive downtown Kalispell, explains the difficulty in making changes to Montana's alcohol licensing system, and gives a hint of what might be coming in the next legislative session.
It's well worth a read.
Montana's alcohol license system is one based on quotas which restrict the number of licenses in the name of regulating access in a way which benefits the public. That's the theory, anyway.
The Montana Brewers Association had its annual conference this past Sunday and Monday.  Included in the lineup was a presentation by the coalition referenced in the Beacon's article. It included some refreshingly frank comments and discussion, proving rare insight into interactions between the three-tier system (manufacturers, distributors, and retailers).
Sorry for the tease on that last item, but time has not yet permitted me to write that story in a manner which does justice to the issues and parties.  It's a work in progress.  Meanwhile, be sure and give Liquor License Lockdown a close read.