Though a Bill intended to create a study of Montana's alcohol licensing system failed to pass both chambers during the 2015 Montana Legislative Session, much discussion continues to occur among the participants.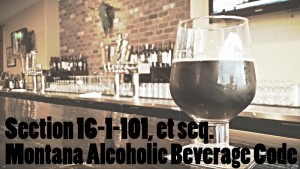 That Bill, HB 618, was quickly watered down and would have directed the Economic Affairs Interim Committee only to study whether to undertake a study (not kidding). It failed in the Senate when it's members noted that no such bill was necessary.  The Economic Affairs Interim Committee (EAIC)* already had the ability to undertake such an effort should it so choose.
Turns out, it is so choosing.
On Tuesday, September 1, 2015, the EAIC has devoted an hour and fifteen minutes for a panel discussion "Regarding Obstacles to Advances in the Alcohol Industry with Proposed Legislative Solutions or, if No Obstacles, then How Status Quo is Working."  The draft agenda can be found here.
The panel presenters are listed on the agenda as:
John Iverson, representing Montana Tavern Association
Jennifer Hensley, representing Montana Distillers Association
Matt Leow, representing Montana Brewers Association
Kristi Blazer, representing Montana Distributors Association
Chad Ouellette, representing Liquor Store Owners Association of Montana
Some amount of time is intended to be dedicated to "Public Comment on Alcohol Industry Concerns."
In that vein, here are some quick hits:
Notice, again, the lack of representation from the consumers' perspective.
Word on the street suggests a slightly modified version of last year's alcohol industry coalition continues to meet to discuss, mainly, license stacking. Unconfirmed reports suggest the spot at the table for a non-Montana Brewers Association member brewery has been eliminated.
License stacking has been tried in two consecutive legislative sessions and failed both times due, in part, to its failure to address the bigger issues.
We all know there are obstacles to advances in the Montana alcohol industry. We also know they are mostly rooted in the quota system.
Can we really expect to make useful progress by continuing to say "we can't deal with the quota system issues because we know it is not going to go away any time soon?"
Participants have set firm stakes in the ground – "we must have license stacking!" or "we must fight license stacking!" or "we must protect the quota system at all costs!" or any number of other closely protected positions. Unfortunately, such stakes in the ground leave little room for creative solutions that would help to advance the whole.
______________________________________________
* The EAIC is a joint bipartisan committee of the Montana Legislature that meets during the interim between legislative sessions and conducts studies and generally reviews issues related to economic development.