A few weeks back the tasting crew got together to check out the world of chile beers – those brewed with the peppers, not the country of origin.  Chile beers have become much more prevalent over the past couple of years and are even turning up in Montana's tap houses.  Bowser Brewing in Great Falls and Missoula's Draught Works both brewed jalapeno hefeweizens recently. Tamarack Brewing Co. in Lakeside brewed a chocolate chile stout for Cinco de Mayo.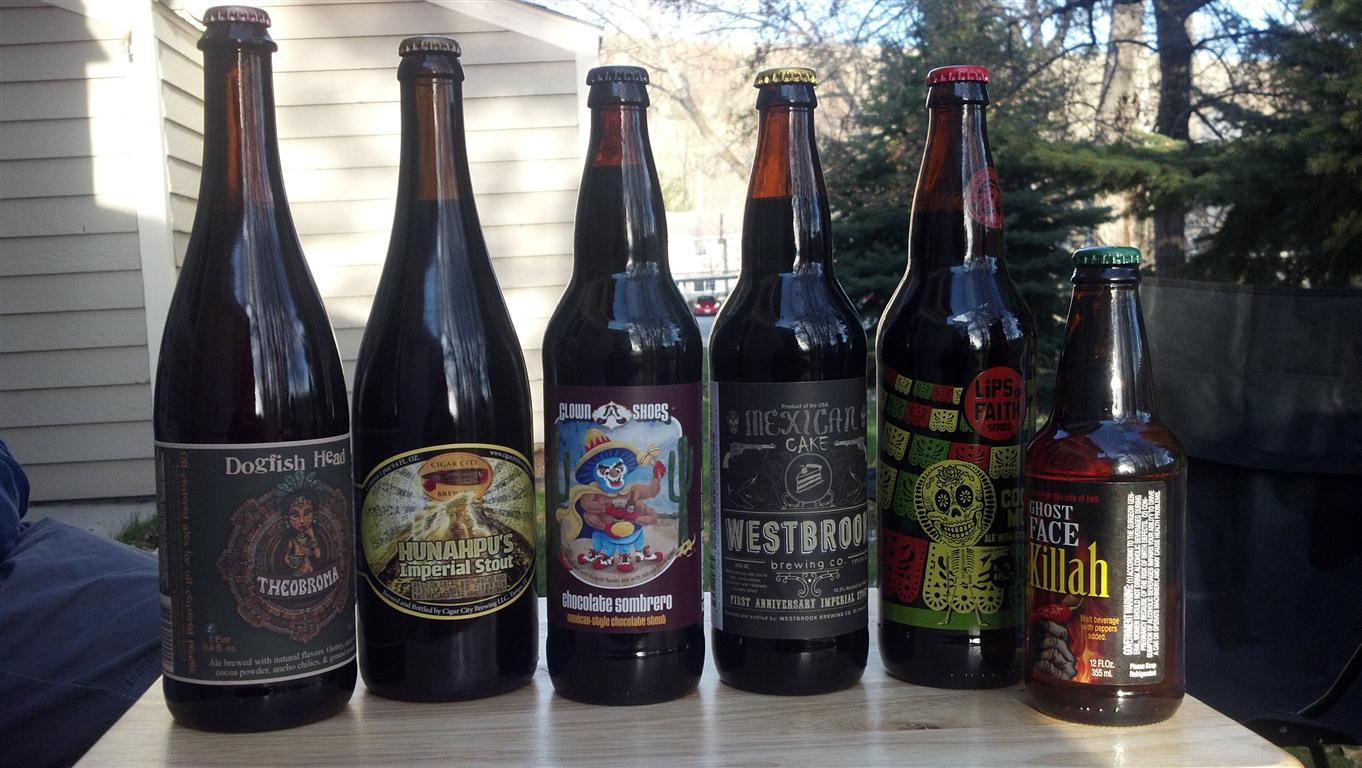 Chile beers are not yet a style unto themselves according to the 2012 Brewers Association Beer Style Guidelines.  That's a little surprising considering pumpkin, fruit, chocolate, and coffee beers have all been deemed worthy of "'style" coronation. Given chilies are showing up in everything from hefeweizens to imperial stouts, one might think defining a style category would prove difficult.  I tend to think that's true, but look at chocolate.  It definitely isn't reserved for the stouts and porters of old.
For our purposes, a chile beer was anything brewed with chile peppers.  Hmm . . . . . . deep.  Here's what made our list in the order we opened them:
Theobroma, Dogfish Head Brewery (Delaware)
Cocoa-Mole, New Belgium Brewing Co.  (Colorado)
Chocolate Sombrero, Clown Shoes Beer  (Massachusetts)
Mexican Cake, Westbrook Brewing Co. (South Carolina)
Hunahpu's Imperial Stout, Cigar City Brewing Co. (Florida)
Ghost Face Killah, Twisted Pine Brewing Co.  (Colorado)
Unlike past tastings, there was no clear leader in this crowd with quite varying tastes among the group.  Theobroma was my favorite with only a very mild chile flavor to go along with chocolate, floral spice, honey, grain . . . . there is a lot going on with this beer and it isn't easy to pin down. Its complexity and 9% abv never get heavy and the gold-amber color is an interesting surprise as well.
Certainly the craziest taste experience of the tasting was Ghost Face Killah.  We'd been warned to save this one for last and that turned out to be essential advice. It's brewed with anaheim, fresno, jalapeno, serrano, habanero and Bhut Jolokia (the ghost pepper). Ghost peppers are the hottest in the world, having 200 times the heat of a jalapeno.  Twisted Pine Brewery doesn't stop with adding them to the boil. They "dry hop" with them, too.  One whiff and you know you're in trouble. The low abv (5%) won't save you on this one.  After the first sip, you're tasting nothing else but high heat coming from the innocent looking golden brew.
It occurred to me later we could have added Black Butte XXIII to the list as last year's Deschutes specialty has pasilla negro chilies.  Still, the taste buds get pretty tired after just five chile beers and are totally obliterated after Ghost Face Killah.  There's always next time.