The 2017 Montana Legislative session has reached the point where people begin to get antsy.  The transmittal date, the date by which most bills must be approved in order to send them to the other chamber, looms. It is not so close for full panic mode, but close enough that the process kicks into a dangerous gear.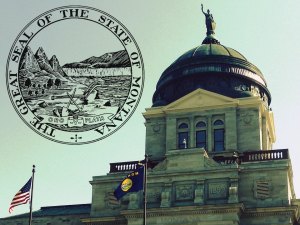 This "antsy" point is where most alcohol related bills get introduced during the short, frantic, biennial 90-day legislative session. 2017 is following the typical pattern.
The "coalition" that never was continues to fail to develop consensus.  Yes, that's an awkward sentence, but it packs a lot of history.
The most significant piece of alcohol legislation thus far had a hearing on Wednesday in the House Business and Labor Committee.  House Bill 412 would allow cities and towns to set their own quota limits for licenses.
The genesis for the Bill is a situation happening in Belgrade and similarly situated towns. Because Belgrade is within the same quota system as Bozeman, alcohol licenses are being transferred out of Belgrade and into Bozeman, leaving the town struggling to compete for restaurants that depend on serving alcohol to draw customers.
Testimony on the bill broke along familiar lines. Town officials and business owners who can't afford to pay private market prices for an alcohol license touted the bill as a way to allow cities to improve economic development. Current license holders derided the bill as allowing cities to pull the rug out from under them after they've abided by the rules (and market prices) of the current system.
They're both right. Montana's alcohol quota system is stifling economic development, has created a false economy for licenses (and its resulting protectionism), and does nothing to serve the consumer.
It's also true that those who have played by the rules and acquired licenses deserve to be treated fairly if the system is going to change.
Proponents of HB412 said they believe it can accomplish both, noting that cites could make reasonable decisions to increase the number of licenses in a manner that did not have a significant, immediate impact on existing license holders.  That is true, but there is also no protections built into the bill requiring cities to make reasonable choices, either.
John Iverson, representing the Montana Tavern Association, quoted statistics that simultaneously made it appear Montana is already flooded with alcohol licenses while also demonstrating how easy it is to use statistics to create false impressions.
Montana does indeed have a lot of licenses. But demand continues to exceed supply, in part because the licenses are concentrated in a way that is not serving current need or consumers.  A restaurant desiring to locate in Belgrade should not need to pay $350,000 for an alcohol license to provide a reasonable opportunity to compete with other establishments.
Neil Peterson, executive director of the Montana Gaming Industry, spoke against the bill by explaining the evils of alcohol, arguing that "supply restrictions" are underutilized tools to curb alcohol abuse. He went so far as to suggest this bill only caters to those who abuse alcohol. It wasn't his first time to present such comments, but the testimony is simply incredulous when it comes from an industry representative that greatly benefits from alcohol. When was the last time you gambled in Montana in an alcohol-free location?  You can't. They are statutorily linked (senior citizen bingo, notwithstanding).
Ultimately, HB 412 represents another band-aid to a broken system that has not evolved to meet the 21st century. Executive action on the bill will likely take place this week.  Expect the vote to be closer than you might think. The legislature knows the system needs serious help, though they are not likely to want to take this significant of a step yet.
Here are some of the other alcohol related bills making their way through the process:
HB 16: Revise interim committee review authority over alcohol beverage laws.  This bill transferred authority over alcohol licensing issues from the Revenue and Transportation Interim Committee to the Economic Affairs Interim Committee. It is a more appropriate committee for studying alcohol issues, but no bill to create an interim study has been drafted yet.  Such a bill failed in the last two legislative sessions. The bill was approved and has been signed by the Governor.
HB 210: Revise liquor laws to clarify distance requirements with respect to schools.  This bill was touted as a "clarification" bill to clarify how the 600 foot separation requirement between schools and churches and alcohol licenses is calculated. In reality, it wasn't a clarification at all, but an expansion.  The House Business and Labor Committee has tabled the bill.
HB 430: Create exception to liquor quota system for residential senior facilities. This bill, touted as the "make retirement homes great again act of 2017" would allow a continuing care retirement community to apply for an alcohol license that would be exempt from the quota system.  Showing its continuing care for the consume, the Montana Tavern Association opposed the bill, in part, on the basis the resident senior citizens shouldn't be mixing alcohol with their stash of phramacologicals. The House Business and Labor Committee held a hearing on February 16 and executive action on the bill could take place this week.
HB 462: Alcohol licenses for community colleges and MUS units for educational purposes. This bill would allow Montana's institutions of higher learning to operate a brewery and taproom if the brewery is associated with a beer brewing curriculum.  The House Business and Labor Committee has set a hearing for February 21.
HB 472: Prohibit county attorneys from selling alcohol or owning alcohol establishments.  This bill bears all the hallmarks of an attempt to deal with an isolated incident.  If anyone has the scoop on the backstory, hit me up. A hearing is set for February 21 in the House Judiciary Committee.
HB 474: Allow consumptive hour for consumers at microdistilleries.  As with breweries, on-premise sales at microdistilleries must end at 8:00 p.m.  This bill would allow patrons to have until 9:00 p.m. to finish consuming any beverages purchased by 8:00 p.m. (consistent with brewery regulations). A hearing is set for February 22 in the House Business and Labor Committee.
HB 483: Provide for accurate measuring of beer manufactured and sales by a brewer.  This bill, sponsored by Rep. Mark Noland (R) of Bigfork, would require nearly all Montana breweries to install meters to measure the quantity of beer transferred from the brewer's bright tanks.  This bill is ostensibly about ensuring accurate tax calculations. But make no mistake about it. This is a major shot at Montana's breweries by someone(s) who aren't happy with them. The bill has been referred to the House Business and Labor Committee, but no hearing has been scheduled yet. It if gets that far, expect a rather interesting hearing.
SB 304: Generally revise alcohol retailer laws.  This bill would allow brewers, beer importers or wholesalers to provide to a retailer coolers, refrigerated displays, and tap equipment if total cost of all equipment provided does not exceed $2,500 in a calendar year. I'm guessing this will be touted as a "clarification" bill. It has been referred to the Senate Business, Labor and Economic Affairs Committee, but a hearing has not been set. UPDATE: The Committee tabled the bill on Feb. 20.
The following bills are in draft form and have not yet been introduced:
LC 1707: Revise taproom hours. This bill would extend the hours of operation for brewery taprooms from 8:00 p.m. to 10:00 p.m.  Don't expect this bill to see the light of day.
LC 2362: Revise laws on siting taverns. This bill, a bit of a counter to HB 210, would potentially decrease the separation between bars and schools/churches if the students and parishioners can't see the bar from their respective school and churches. Break out the ladders and periscopes. UPDATE:  This bill was introduced as HB 535 and a hearing is set before the House Business and Labor Committee for February 24.
LC 2409:  Raise the 10k bbl production limit for taprooms to 60k bbl.  Presently, Montana breweries can only sell beer for on-premise consumption if their annual production does not exceed 10,000 bbl.  This bill would raise the limit to 60,000bbl. Most Montana breweries are and will contiue to be well under 10k bbl of annual production, but the bill would have a positive effect on breweries like Bayern, which does not want to divide its operation into separate businesses for its taproom and brewery.  Similar legislation in 2015 received typical opposition from the MTA and its lockstep affiliates, but came close to passing out of committee. Expect similar opposition if it gets introduced during this session. UPDATE:  This bill was introduced on February 20 and is now HB 541.
LC 2420: Special District Alcohol License. If I'm reading this bill correctly, it would exempt beer and wine licenses from the quota system for areas within a Business Improvement District or Urban Renewal District.  If you can't predict how the testimony would fall on this one, you've not been reading very carefully. UPDATE:  This bill was introduced on February 21 and is now HB 549.
~ Follow Growler Fills on Twitter and Facebook ~