There is a big hearing tomorrow at 8:00 a.m. in the House Business and Labor Committee at the State Capitol building in Helena.  Big for beer, anyway.
HB 541 would raise the 10k bbl production limit for taprooms to 60k bbl.  Presently, Montana breweries can only sell beer for on-premise consumption if their annual production does not exceed 10,000 bbl.  This bill would raise the limit to 60,000 bbl, allowing a brewery like Bayern Brewing in Missoula to almost immediately increase its production by at least 30%, according to owner Jürgen Knöller, without losing its current taproom and associated on-premise sales.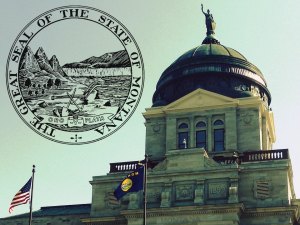 This bill has a twist in that it was not pushed forward by the Montana Brewers Association, but by two Missoula-area legislators who are looking out for their local businesses. Nevertheless, the MBA supports the bill and is actively encouraging its followers to make some noise. Conversely, the Montana Tavern Association is already on record opposing the bill. The Montana Beer and Wine Distributors Association has yet to publicly declare their position.
HB 462 had a hearing yesterday. and you can get the full scoop on the action, including the opposition, in this story.  The bill would allow community colleges and other institutions of higher learning to own a brewery license and be eligible for a taproom in accordance with the current "small brewery exception" so long as the brewery/taproom is associated with a beer brewing curriculum, like Flathead Valley Community College established in 2015.
HB 549 would create a new special district alcohol license, effectively exempting beer and wine licenses from the quota system for businesses located within a Business Improvement District or Urban Renewal District. The House Business and Labor Committee will hold a hearing on this bill tomorrow, during an already action packed meeting on alcohol legislation.
HB 472 would prohibit county attorneys from selling alcohol or owning alcohol establishments. As expected, this bill was designed to address an isolated incident which you can read about here. The House Judiciary Committee held a hearing on the bill yesterday.
The sponsor, Rep. Wylie Galt (R), Martinsdale, introduced the bill merely as something he agreed to bring forward on behalf of a constituent, then distanced himself from its content with a rapid retreat.  Intended to address the situation in Meagher County, the bill inadvertently captured a County Attorney in Custer County who provided compelling testimony against its adoption. The committee tabled the bill during executive action today. Ultimately, the Legislature strongly disfavors enacting specialized legislation for problems which can be address via existing laws.
HB 474 would allow customers at microdistilleries to purchase alcohol until 8:00 p.m. (as with current law), but allow them to remain on premises to enjoy it until 9:00 p.m. (they currently get kicked out at 8:00 p.m.).  The change would bring microdistilleries in line with the rules for on-premise sales and consumption at brewery taprooms. Following a hearing this morning, the Committee narrowly approved the bill on a 10-9 vote.  The Bill is scheduled for Second Reading – its first vote before the full House of Representatives – tomorrow.
SB 304, dubbed by some as the AB-InBev (Budweiser) incentive plan, this bill would allow brewers, beer importers or wholesalers to provide to a retailer coolers, refrigerated displays, and tap equipment if total cost of all equipment provided did not exceed $2,500 in a calendar year. Industry members worried a large corporation like AB-InBev would gain a competitive advantage because few others would have the monetary resources to provide these gifts across Montana. The Committee tabled the bill on Monday after the sponsor asked to withdraw it.
HB 483, viewed by brewers as a retaliatory measure aimed at their industry, would require nearly all Montana breweries to install meters to measure the quantity of beer transferred from the brewer's bright tanks.  This bill is ostensibly about ensuring accurate tax calculations, but the Feds don't require metering despite having more to lose in that arena. What's this bill really about? You get two guesses (and I've got two answers). The bill has been referred to the House Business and Labor Committee, but no hearing has been scheduled yet. Expect that to change if HB 541 passes. Or maybe just because.