For the second year in a row, Missoula's The Dram Shop, has been named Montana's best beer bar in voting conducted by readers of the Brewers Association's website, CraftBeer.com.
It is an impressive feat for an establishment that hasn't been open a full two years. But step inside the warm, friendly, popular haven of frequently rotating taps and you'll have no trouble understanding why it keeps attracting votes.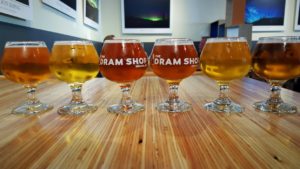 Here is the press release from the Brewers Association:
CraftBeer.com Presents: Great American Beer Bars
Setting the Craft Beer Bar High

Boulder, CO • February 28, 2017

With more than 5,200 small and independent craft breweries operating across the country, craft beer lovers have no shortage of options to discover and delight in the beloved beverage of beer. To navigate both novices and craft beer aficionados towards the best beer bars in every state, CraftBeer.com—the Brewers Association website for beer lovers—surveyed its readers for its annual Great American Beer Bars competition.

"CraftBeer.com readers understand what sets a beer bar apart and have continually shown up since 2012 to recommend and praise their favorite spots," said Julia Herz, publisher of CraftBeer.com. "With more than 7,000 votes cast, we are excited to announce this year's winners and proud to welcome back twenty-one (41%) 2016 winners to the list – a sign that craft beer bars, now more than ever, are committed to their patrons and ensuring the best overall experience."

Methodology: CraftBeer.com readers were asked to nominate their favorite craft beer bar in their state and fill out a short survey about what makes it so great including atmosphere, staff, beer selection and special events. Over 7,000 votes in total from November 15 – December 31, 2016 were cast.
To view a sortable list and read about each state's Great American Beer Bar, head to this link.
~ Follow Growler Fills on Twitter and Facebook ~