Presenting a united front that was missing in 2015, brewers from across Montana poured into the House Business and Labor Committee Thursday morning to support HB 541, a bill to raise production caps on Montana breweries.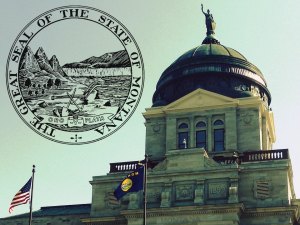 Those efforts were rewarded Friday when the Committee passed the bill on a 15-4 vote with no discussion.  The bill now moves to the full House of Representatives for further consideration.
Montana's "small brewery" taprooms (called "sample rooms" in the law) are permitted to sell beer for on-premise consumption, but only between the hours of 10:00 a.m. and 8:00 p.m. with a maximum of 48 oz. per person per day.  A small brewery is defined as one producing between 100 and 10,000 bbl per year.
HB 541 would raise the limit to 60,000 bbl, a change that would have an immediate effect on breweries like Bayern Brewing, Montana's longest operating craft brewery. When a similar bill was debated during the 2015 Montana legislative session, Bayern's owner, Jürgen Knöller noted the change would immediately allow Bayern to begin producing 30% more beer, while still keeping the brewery's taproom.
Unwilling to wait for the alcohol industry "coalition" to forward reasonable legislation, two Missoula-area legislators sponsored the bill to help continue the growth of Montana's beer industry. (David Erickson at the Missoulian has the backstory here).
Rep. Adam Hertz (R), Missoula, sponsor of HB 541, opened Thursday's hearing with direct criticism of the current production limit.
"The cap punishes success, restricts growth and puts Montana breweries at a competitive disadvantage in the regional marketplace," said Hertz. "The 10,000 barrel limit creates a real obstacle for our breweries to invest in new plants and equipment, grow production, create jobs, and export product, while importing money into our economy."
Co-sponsor Rep. Ellie Hill Smith did little to hide her disdain for past opposition to the bill. "Last session, I had this bill draft.  Rep. Doc Moore had this bill draft.  Rep. Christy Clark had this bill. Rep. Pat Noonan had this bill. And everyone talked to the three legs of the stool about bringing the bill forward, and eventually I will say we were bullied, threatened, told not to bring it forward," said Hill Smith.*
Referring to the Montana Tavern Association and the alcohol industry coalition, Hill Smith expressed frustration with their efforts. "We were promised that in two years  they would come up with a compromise.  And I'm before you two years later. There's no compromise still. And I assert to you there won't be. Because they are not going to let the breweries do this, unless us legislators do it on our own."
Bjorn Nabozney, co-owner of Big Sky Brewing Co., the largest in Montana with 42,000 bbl produced in 2016, explained Big Sky has given away $4,000,000 in beer samples over the past 10 years because the law prevents them from selling beer for on-premise consumption.
Drawing some good-natured laughs, Nabozney told the Committee, "I want to pay more taxes." Nabozney estimated the State of Montana has lost out on at least $250,000 in excise taxes due to the current law.
Mark Hastings, founding partner of Uberbrew, the reigning Small Brewery of the Year as recognized by Brewers Association, explained the brewery expects to come close to the 10,000 bbl limit soon and current law would require them to stop growing or jeopardize keeping their 30 employees.
Bob Lukes, co-owner of Missoula Brewing Co. echoed those sentiments. "We invested a lot of money and built a large facility," said Lukes. "We're going to breach this 10,000 barrel limit easily within five years. Right now we have about 25 employees and when we hit that limit, the taproom is closed and those individuals will be losing their jobs."
Brewery owners from Blackfoot River, Uberbrew, Draught Works, Philipsburg, Katabatic, Bridger, and Ten Mile Creek, also testified in support of the bill, as did representatives from the Montana Brewers Association, Montana Farmers Union, Kalispell Business Improvement District, and Pint Pass, LLC, a beer app technology company based in Bozeman.
Three opponents testified.
John Iverson, Montana Tavern Association, explained the alcohol industry followed the instructions given by the 2015 House Business and Labor Committee to sit at a table together and learn to get along.  "We did that," said Iverson, highlighting the "buy local beer here" campaign the MTA, MBA and Montana Restaurant Association created in Fall 2015.
"We are not opposed to craft beer," Iverson said. "But we are looking for a more fair environment. In those alcohol industry coalition meetings, we agreed to raising the 10,000 barrel limit to 60,000 barrels. We still agree with it, with amendments."
According to Iverson, the MTA reached an agreement with the other industry members to allow the limit to be raised to 60,000 bbl if it included a provision to phase out taprooms as the breweries grow larger. It would eliminate the 10,000 bbl "cliff," as Iverson called it, and replace it with a slower phase-out of the taprooms.
Iverson asked the Committee to consider amendments to help "level the planning field," including an additional licensing fee, and a requirement for breweries to undergo a "public convenience and necessity" review prior to receiving a license.
Neil Peterson, Montana Gaming Industry Association, used a rambling combination of disparate statistics to argue beer sales nationally and in Montana are flat or decreasing while also claiming the the laws in Montana are not stifling the growth of Montana Breweries. "It seems to me the industry is fairly strong in Montana, so I don't know what problem we're trying to solve," said Peterson.
Brad Griffin, Montana Restaurant Association, also testified against the bill. "I'm disappointed that we're here today having another public fight in front of the Legislature," Griffin told the Committee. "That wasn't our intent. The whole intent of the alcohol coalition was to have those fights behind closed doors with the lobbyists and industry partners to solve these problems among ourselves."
HB 541 now moves to the full House of Representatives where two additional majority votes are needed to send the bill to the Montana Senate for its consideration.
~ Follow Growler Fills on Twitter and Facebook ~
______________________________
* FYI: During her testimony Hill Smith referred to alcohol licenses as a property right. This is incorrect. Alcohol licenses are a privilege, not a right. They have vastly different legal standards. This legal principle is codified in Montana law at 16-4-401, MCA: "License as privilege — criteria for decision on application. (1) A license under this code is a privilege that the state may grant to an applicant and is not a right to which any applicant is entitled."