Founders Brewing Co., the Grand Rapids, MI, brewer of KBS barrel-aged stout, All Day IPA, Backwoods Bastard barrel-aged scotch ale, and many other well-regarded beers, announced today it will begin distribution to Montana on April 1 (no fooling).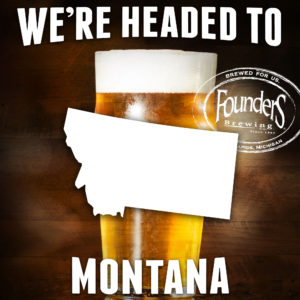 Founders' Co-Founder and CEO Mike Stevens enjoys an annual trout-fishing trip to Montana. "Having been a two-bit fly-fishing guide in my previous life, it makes me damn proud that I can now purchase Founders beer in a place that, in a lot of ways, represents that past," said Stevens in a news release on the brewery's website. "Now, I might even be able to convince Dave [Co-Founder and President] to join me the next time around."
[Ed. note: If that's the only thing holding him back, he needs to get out more.]
Distribution throughout Montana will be handled by Montana's Great Artisan Beverage Company members: Summit Beverage, Cardinal Distributing, Fun Beverage, Gusto Beverage and Briggs Distributing. Founders expects to ship its year-round, seasonal and specialty beers as well as select limited release beers after the launch. Launch events will take place the week of April 10.
Montana becomes the 43rd state to receive Founders' beer. The brewery joins Ballast Point, Firestone Walker, and Oskar Blues as recent additions from larger breweries competing for Montanans' taste buds.