Montana breweries posted another strong showing at the 2016 North American Beer Awards. The competition is held in Idaho Falls each year in early June in conjunction with the Mountain Brewers Beer Fest.  Organized by the North American Brewers Association, this well regarded competition is conducted as a single blind sampling followed by rank ordering of the entries within a category.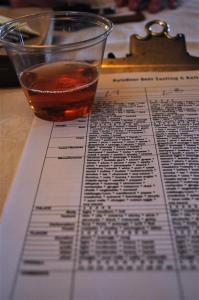 Here are the results for Montana breweries:
406 Brewing Company
Gold: Belgian Pale – Belgian-Style Pale Ale
Big Sky Brewing Company
Gold: Ivan The Terrible Imperial Stout – Imperial Stout
Bronze: Ivan The Terrible Imperial (2015) – Barrel-Aged Strong Beer
Bronze: Summer Honey – Honey Beer
Bitter Root Brewing
Gold: Blown Out Brown – English-Style Brown Ale
Blacksmith Brewing Co.
Gold: Brickhouse Blonde – Hefeweizen
Bozeman Brewing Co.
Silver: Plum Street Porter – Robust Porter
Canyon Creek Brewing
Bronze: MinPin Pilsner – Dortmunder/Export
Bronze: Copper – Scottish-Style Heavy
Bronze: Cold Creek Scottish – Scottish-Style Export
Silver: One Night Stand – Golden or Blonde Ale
Carter's Brewing
Bronze: Contemplation 2016 – American-Style Strong Ale
Bronze: Rob Moore Grand Cru – Dubbel
Silver: MJ's Framboise 2016 – American-Style Wild or Sour Ale
Flathead Lake Brewing Co.
Silver: Mendocino Oud Bruin – Flanders-Style Red or Brown Ale
Katabatic Brewing Co.
Bronze: Alt-nerative POLKA – Altbier
KettleHouse Brewing Co.
Gold: Cold Smoke – Scottish-Style Export
Gold: Haulapeno – Chili Beer
Silver: Kombrewski – Specialty and Experimental Beers
MAP Brewing Co
Bronze: Steep Terrain – Double/Imperial India Pale Ale
Gold: Sticke Shift Alt – Altbier
Madison River Brewing Company
Bronze: Golden Willie Ale – Cream Ale
Silver: Copper John Scotch Ale – Scottish-Style Export
Montana Brewing Co.
Silver: Sandbagger Blonde Ale – Light Ale
Gold: "That Dame" ESB – Strong Bitter ESB (Extra Special)
Bronze: Custer's Last Stout – Oatmeal Stout
Philipsburg Brewing Company
Bronze: Otter Water – Light Ale
Silver: Haybag Hefeweizen – Hefeweizen
Silver: Flint Creek Common – California Common
Gold: 5 Phantoms Pumpkin Spiced Barleywine – Pumpkin or Pumpkin Spiced Beers
Red Lodge Ales Brewing Co.
Bronze: Liver Eatin' Ale – Dark Hefeweizen
Silver: Glacier Ale – Altbier
Gold: Summer Daze Doppelweiss – Dunkelweizen / Weizen Bock
Uberbrew
Silver: Humulus Insani – Double/Imperial India Pale Ale
Gold: Alpha Force Double Tap – Cascadian Style Dark Ale
Gold: Grandmaster SMaSH Chinook – Session Beer IPA
The full list of winners by brewery and by styles is available here.