It is a big Friday for beer in Montana.  Big Sky Brewing Co. is throwing a 21st birthday party in Missoula and the Montana Brewers Association is holding its Solstice Rendezvous in Billings. Montana's beer fans have two great opportunities this Friday, June 17.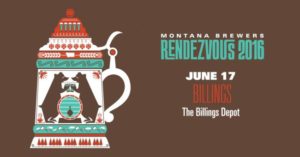 The Montana Brewers last held a brewfest in Billings three years ago, and those three years have seen an explosion in the number of Montana breweries.
"We hope to see Billings out in force Friday night, joining us at the Rendezvous after work for great tunes and some of the best craft beer in the world," said Matt Leow, executive director of the Montana Brewers Association. "What a perfect way enjoy a beautiful Friday summer evening."
"The growth in the Montana brewery scene has been marked by quality as well as quantity, with Montana breweries bringing home 36 medals from the North American Beer Awards earlier this month as well as a win at the World Beer Cup," said Paul Morup with Überbrew.
Überbrew recently won two gold medals and a silver at the North American Beer Awards. Fifteen other Montana breweries also brought home medals from the North American Beer Awards and several of those award winning beers will be available at Friday's event. Canyon Creek Brewing will be pouring One Night Stand (silver) and Cold Creek Scottish (bronze), Red Lodge Ales will be pouring Summer Daze (gold), and Philipsburg Brewing Company will be pouring Haybag (silver) and Otter Water (bronze). Haybag also won a silver medal at the World Beer Cup.the World Beer Cup," said Paul Morup with Überbrew.
The Rendezvous takes place at the Billings Depot. Admission includes a  Solstice Rendezvous glass, free samples of all-Montana craft beer. and live live music by John Flordis Trio and Shakewell.
There will be a VIP hour from 4:00 to 5:00 pm with general admission from 5:00 to 9:00 pm. Tickets are available at the door at $40 for VIP and $30 for general admission.
Expect to find beer from the following breweries:
Beaver Creek Brewery
Black Eagle Brewery
Bozeman Brewing Company
Bridger Brewing
Canyon Creek Brewing
Draught Works
Highlander Beer
Kalispell Brewing Company
Katabatic Brewing Company
Lewis and Clark Brewing Company
Meadowlark Brewing
Mighty Mo Brewing Company
Muddy Creek Brewery
Neptune's Brewery
Outlaw Brewing
Philipsburg Brewing Company
Red Lodge Ales
Tamarack Brewing Company
Ten Mile Creek Brewery
The Front Brewing Company
Thirsty Street Brewing Company
Triple Dog Brewing
Überbrew
For more information about the Montana Brewers Solstice Rendezvous, visit www.montanabrewers.org.