Big Sky Brewing Co. turns 21 this year and is hosting a fun celebration at Missoula's Caras Park featuring 21 of the brewery's beers.  The party takes place from 4:00 p.m. to 10:00 p.m. on June 17, the same date Big Sky brewed its first beer at the original brewery on Hickory Street in 1995. Montana's largest brewery with distribution to 24 states, Big Sky moved to its current location near Missoula's airport in 2002.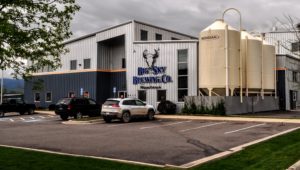 In addition to the beer, some of which you will only ever find at the party, the party will feature mechanical bull riding, various games, live music and food.
In light of reaching drinking age, I recently sat down with two of Big Sky Brewing's founders, Neal Leathers and Bjorn Nabozney, for a feature article in the June/July edition of the Rocky Mountain Brewing News. Stayed tuned for a couple of anecdotes I didn't have room for in the article – the origin of Ivan the Terrible Imperial Stout and some fun details about the recently released Shake-a-Day IPA.
Here's the beer list from Big Sky:
Call it a birthday party. Call it our own little brewfest. Call it a celebration of the craft. Call it what you want. We're calling it FUN, so be sure and stop Caras Park, Missoula, June 17th, 4-10 pm for one of these 21 beers.

Favorites 
Moose Drool: Our flagship Brown Ale. Versatile, drinkable and flavorful.

Trout Slayer: Refreshing Wheat Ale with bright citrus flavors and subtle dryhop aroma.

Scape Goat: Quaffable and satisfying. Pale ale or trusted friend?

IPA: Montana's IPA. Bright fruit flavors and reliable.

Pygmy Owl:  Session IPA. Big flavor in a small ABV.

Summer Honey: Our benchmark for the season. Light, refreshing and interesting.

Specialties 
Trappist Style Single: Pale, dry and sneaky. Showcasing Belgian yeast, floral hops, and premium  Pilsner malt.

Mexi Lager: Crisp, refreshing, with a grainy malt body.

Whistle Pig: The beer that started it all, come live the resurrection.

Truck Nutz: Robust porter with tart montmorency cherries.

Pack Train: Hoppy as ____.

Shake a Day:  West Coast IPA, in the middle of Missoula.

Barrel Aged  
Flathead Cherry, Bourbon Barrel Aged, 2012 Biere de Noel: Rich, chocolate, cherry, boom. Try one while you can.

Hound Dog: American Strong Pale ale aged in Bourbon Barrels.

Local Plum, Bordeaux Barrel Aged, 2015 Tripel: Locally harvested plums take this Belgian Tripel beer to new levels. Aged in Bordeaux wine barrel.

Barrel Aged Ivan the Terrible: Our ace in the hole. Imperial stout 100% aged in freshly dumped Buffalo Trace Bourbon Barrels.

Barrel Aged Power Wagon:  Werewolf Juice. Wheatwine aged in American oak. Flavors of apricot and honey, you'll be howling at the moon.

Once in a lifetime
Top Secret, one time only, never seen before or again.