The fun starts Saturday. If you've taken part in Missoula Craft Beer Week before, you know what that means.  Lots of opportunities to enjoy beer with friends in wonderfully creative ways. For 2016, MCBW begins Saturday, April 30 and continues through Saturday, May 7.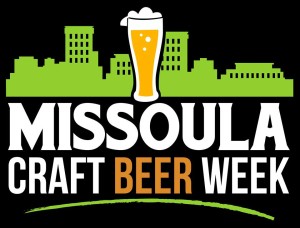 It's the 5th year for Missoula Craft Beer Week and the lineup is the best yet. Especially if you're the competitive type. And if there's one thing we learned from last year's Human Foosball Tournament, Missoula's beer fans can be extremely competitive.
CrossFit-style competition? Got it. Cornhole tournament? Yep. Shuffleboard? Human Foosball? Mini-golf? Trivia cage match?  All part of the great events.
New for 2016 may very well be the world's best Beer Mile, a four lap race where contestants "enjoy" a beer after each lap while trying to run a mile as fast as they can.  If that sounds like just a playful jog with beer, the world record is 4:47.17. What makes this partnership between Big Sky Brewing Co. and The Runners' Edge the best beer mile out of more than 3,000 races?  The course actually runs through a brewery.
Special thanks to our Platinum Sponsor for 2016, Highlander Beer.  Highlander is hosting two fun events, a brunch with breakfast pizzas and the release of their first double IPA on Saturday, April 30 at 10:00 a.m., and a beer-themed yoga session with Hot House Yoga on Wednesday, May 4 at 5:30 p.m. Both events take place at the brewery's taproom at 200 International Drive.
Here's the current schedule. Head here to check for updates and additions.
2016 Missoula Craft Beer Week Events

SATURDAY, APRIL 30

Highlander Brunch/DIPA Release: 10:00 a.m. to 2:00 p.m. || Highlander Taproom.  Missoula Craft Beer Week's 2016 Title Sponsor kicks off the week with a brunch, including special breakfast pizzas, food and pint specials, and the release of Highlander Beer's first double IPA! It all takes place at the Highlander Taproom at 200 International Blvd. Details here!
Brews Cruise: 12:00 p.m. || Missoula. A bicycling poker run to kick off Missoula Craft Beer Week! Proceeds benefit MTB Missoula. $15 per rider. Grand prizes are new cruiser bikes courtesy Missoula Bicycle Works. Details here!

Human Foosball Tournament: 1:00 p.m. || Kettlehouse Southside.  Advance registration required. $45 per team of six players. Registration at Kettlehouse Southside Taproom on April 23 at 12:00 p.m. Details here! 

Northside Kettlehouse Special Beer Releases: 12:00 p.m. || Northside Kettlehouse. 313 N. 1st St. W. To kick off Missoula Craft Beer Week, Northside Kettlehouse has three special beer releases on tap beginning today and continuing until they're gone: Chocolate Coconut Cold Smoke Scotch Ale, Jalapeno Double Haul IPA and Citra Dry Hopped Eddy Out Pale Ale.
Shuffleboard Tournament Sign-Up: 12:00 p.m. until filled || Kettlehouse Northside.  313 N. 1st St. W. Registration for Northside Kettlehouse' annual shuffleboard tournament will open at noon and contiune until all slots are filled. The tournament will take place from Friday to Sunday, May 5-7.  Registration is limited to 64 teams of 2 persons. The willing team will be awarded a session with Kettlehouse' Brewers to create their own cask beer recipe to be featured in the Northside taproom for everyone to enjoy!  All participants will receive a FREE commemorative Craft Beer Week Shuffleboard Tournament growlette. 

SUNDAY, MAY 1

SOLD OUT! Bacon n' Beer Brunch: 10:00 a.m. – noon || Draught Works Brewery.  Draught Works' 4th annual Bacon 'N Beer Breakfast is one of their favorite ways to celebrate Missoula Craft Beer week! Draught Works will open at 10:00 a.m. for this ticket-only event. $35 gets you all-you-can-eat bacon, coffee by Black Coffee Roasting Company, bacon maple bars by Baker's Dozen, bacon 'n veggie breakfast casserole + fruit 'n bacon kabobs by The Roadhouse Catering, a commemorative mug, plus four 12 oz. beers that you can redeem all day long (any beer on tap OR one of our special beer cocktails)! Seating is limited, so call Draught Works at 406-541-1592 or swing by the brewery to reserve your ticket! 
Barbells and Brews Crossfit Competition: 8:00 a.m. || Big Sky Brewery. 5417 Trumpeter Way. Get those quads ready.  A partnership with 5 Valleys Crossfit. Details here! 

Big Sky Beer Mile: 3:00 p.m. || Big Sky Brewery. 5417 Trumpeter Way. Think you're fast? Think you're still fast running a mile while downing four beers?  The world record is 4:47.17.  Join Big Sky Brewing Co. and Runner's Edge for the world's most unique Beer Mile course. Whether running or watching, this is an event you are not going to want to miss! Details here! 

The Sunday Funnies: 6:30 p.m. || Great Burn Brewing Co. 2230 McDonald Ave. A Comedy Showcase brought to you by Homegrown Comedy and Laugh For A Change. This evening of taproom stand-up features eight to ten comedians presenting over 2 hours of comedy.
MONDAY, MAY 2

Rest up. You're going to need it.
TUESDAY, MAY 3

Philipsburg Brewing Tap Takeover: 5:00 p.m. || Desperado Sports Tavern. 3101 S Russell St. Philipsburg Brewing Co. is taking over the taps at one of Missoula's favorite places for wings! Come meet the brewers and get in on some great prizes.

Beer Geek Cage Match Trivia Night: 7:00 p.m. || The Dram Shop. 229 E. Front St. The Dram Shop and Draught Works are teaming up to bring you Beer Geek Cage Match, a beer knowledge trivia night with some awesome prizes to the top 3 teams, including tickets to Garden City Brewfest, growlers, free beer, and more! Space is limited, so make sure to sign up your team at The Dram Shop! Maximum of 4 people per team. Questions will cover the spectrum of beer knowledge from history to a style/tasting quiz. Free to participate, plus Draught Works beer specials during the event! Details here! 
Ping Pong and Dart Tournament: TBD || Great Burn Brewing Co. 2230 McDonald Ave. Both tournaments will run simultaneously and will take place on Tuesday and Wednesday at Great Burn Brewing Co.  Limited to 16 participants in each tournament.  Winners and runners up will receive gift cards and brewery swag!
WEDNESDAY, MAY 4

Cornhole Tournament: 6:30 p.m. || Iron Horse Bar & Grill. 501 N. Higgins. Two great American pastimes together with an evening of cornhole and beer! Sixteen teams of two people will compete for all of the glory in this competition sponsored by Great Northern Brewing Co.  Registration is $10 per team and you must register via Great Northern's website (greatnorthernbrewing.com). 1st place will receive $100; 2nd place will receive $40, 3rd place will receive $20. All participants will receive some GNBC swag!   Event will go five rounds, bracket-style, until we have a winner!

Yoga at the Highlander Taproom: 5:30 p.m. || Highlander Tap Room.  200 International Drive. Join Higlander for a beer-themed yoga session at the brewery with Hot House Yoga! Root yourself and sprout like malted grains, climb to the sky like hop vines, then compress and expand like yeast cells . . . all beore enjoying a Highlander brew in pure synchronicity.  Yes, really, beer themed yoga. 
Run Wild Missoula Special Edition Beer Run: 6:00 p.m. || Iron Horse Bar & Grill.  501 N. Higgins. Run Wild Missoula is hosting a special edition of its popular monthly beer runs for Missoula's Craft Beer Week! The run starts at the Iron Horse Bar & Grill at 6:00 p.m . From their it will be a Tour de Breweries as the course takes participants by the Northside Kettlehouse, then Draught Works, then Imagine Nation, then the Southside Kettlehouse, and then back to the Iron Horse Brew Pub to enjoy a beverage and/or meal, and watch the Craft Beer Week Cornhole Tournament taking place. Stops at any of the breweries are totally optional. In other words, it's a run and not a pub crawl, but choose your own adventure if you please!  The run is open to all – Run Wild Missoula Membership is not required.

THURSDAY, MAY 5

Craft Beer Cup: 5:15 p.m. – 10:30 p.m. || Mini Golf Tournment througout downtown Missoula. Sink your ball in the hole while exploring Downtown Missoula in this fun-filled pub crawl and mini-golf tournament. Teams of 6 players. $20 PER PERSON.  Profits donated to Missoula Food Bank.  Registration details coming soon. Payment must accompany your registration and please have shirt sizes for all team members. Participation is limited and always sells out! DRESS THEME: Fiesta!

Craft Beer Cup Celebration Party: 9:30 p.m. || Top Hat Lounge. 134 West Front St. Come to the Top Hat following the Craft Beer Cup for the awards celebration, swag, and the Top Hat's always great line up of beer and small plates.
Beer Dinner in The Round: 6:00 p.m. || Flathead Lake Brewing Co. of Missoula. 424 N. Higgins. Presented by Radd Cooking/HoppdMedia, this four-course dinner featuring craft beer as an ingredient in and paired with each course will have you licking your chops! Between each course is a performance of music, spoken word and lecture. Menu includes such items as honey balsamic beer glazed shrimp skewers and a salad with grilled corn and chicharrones with summer ale cilantro vinaigrette. For the complete menu, more details and to purchase tickets, click here.
FRIDAY, MAY 6

Great Northern Tap Takeover: 4:30 p.m. to close || The Dram Shop. 229 E. Front St.  Tune up for the Garden City Brewfest with a tap takover by Great Northern Brewing Brewing Company at The Dram Shop.  Specials on half-pint flights of GNBC beers along with plenty of giveways and more fun! Customers can take home a halfie glass from GNBC!

Shuffleboard Tournament: TBD || Kettlehouse Northside.  313 N. 1st St. W. Northside Kettlehouse' annual shuffleboard tournament begins and continues through Sunday with the winning team getting to create a cask beer recipe for everyone to enjoy in the taproom!

Wooden Barrel of Dump Truck Tapping: Aprox. 5:30 p.m. || The Depot. 201 Railroad St W.  Join Bayern Brewing's Jurgen Knoller as he taps a wooden barrell of the brewery's popular summer bock! 
SATURDAY, MAY 7

12:00 p.m.  24th Garden City Brewfest. Beers, live music and food vendors.  Celebrate the end of Missoula Craft Beer Week in style at the longest running brewfest in Montana. Caras Park.
ALL WEEK LONG
Montana Beer Blind Tasting: All Day. || The Rhino. 158 Ryman St. $7 for a flight of four 7 oz. Montana-made beers. You just have to tell us which ones they are. Correct answers get a prize. Then we'll draw from all the winners for a grand prize!
Beer Specials/Raffle: 10:00 a.m. to 8:00 p.m. || Summer Sun Garden & Brew. 838 West Spruce St. You know Summer Sun for it's excelllent lineup of bottled/canned beer and the best selection of homebrewing supplies for hundreds of miles. Check 'em out for specials all week long and get in on a raffle for cool stuff.