Philipsburg Brewing Co. spent the better part of the last two years securing a second location, planning, purchasing and installing a new 50 bbl brewhouse, and getting everything up and running for a major expansion.  The brewery brewed its first beer at the new production facility five months ago while also working to get its bottling line up and running.
The wait is finally over as Philipsburg began bottling its popular beer on December 2 using aluminum bottles with re-closable caps.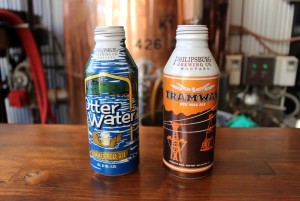 "The packaging choice was a no-brainer for us," Head Brewer Mike Elliot explains. "The Ball Alumi-Tek bottles are a sustainable option for those of us that like to take our beer on our adventures and not to mention the quality factor of eliminating light or oxygen issues.
In a conversation earlier this year, Elliot reported that Philipsburg's new production facility is located in the former Silver Springs water bottling plant which sits on the site of the original Philipsburg brewery that dates to the 1870s.
According to Elliot, the mineral content of the water from the spring is too hard to brew their normal lineup, but he hopes to formulate a darker beer that will utilize 100% spring water for a future seasonal release.
More than 350 cases of Tramway Rye Pale Ale were shipped out on December 7 with Summit Beverage handling the distribution. Look for bottles initially in the Missoula and Butte distribution areas which cover 13 counties.
The brewery plans to add its Otter Water Session Pale Ale to the bottled lineup this spring with more varieties to follow.
~ Follow Growler Fills on Twitter and Facebook ~