It's Grand Opening time for Imagine Nation Brewing Co with a day filled with live music, workshops, food vendors, new beer and plenty of fun from 12:00 p.m. to 8:00 p.m. this Saturday, September 19.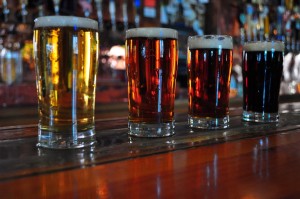 I'll be leading one of those workshops, an informal beer tasting workshop that will cost you nothing more than the price of six tasters of Imagine Nation beer.
Though the workshop is titled "Appreciate Beer Like a Pro" I can promise an easy-going discussion about the process of tasting beer.  We'll hang out in the brewery's production space and enjoy some beer among the equipment used to make it. The result will be a nice background to the various characteristics of beer, some things to look for, and a method to discuss them.
Why? For no other reason than to have fun with this delicious beverage.  Tasting and appreciating beer doesn't need to involve snobbery.  With this workshop you'll learn to explore beer your own way and tell anyone who claims you're doing it wrong to shove it.
Sound fun?  Come join us on Saturday.  The workshop runs twice: 3:30 to 4:30 p.m. and 4:45 to 5:45 p.m.
Here is the rest of the lineup for the grand opening.
Imagine Fest:
Live Music
12-12:45pm: Community Drum and Dance
1-3pm: Local Yokel
4-5pm: Caleb Van Gelder Trio
6-8pm: Wartime Blues
Workshops
11:00-11:45am
Kids' Vibrations, hosted by Tangled Tones Music Studio (donation-based)
1:00-2:30pm
Theatrical Improv for Kids, hosted by Kevin Harrington
3:00-4:00pm
How Do We Create Social Change, with Mayor John Engen; Susan Hay Patrick, CEO of United Way of Missoula; Jenny Montgomery, Owner of Montgomery Distillery; and Ellen Buchanan, Director of the Missoula Redevelopment Agency.
3:30-4:30pm and 4:45-5:45pm
Appreciate Beer Like a Pro, hosted by Alan McCormick, Montana columnist for the Rocky Mountain Brewing News and author of Growler Fills
4:30-5:30pm
Compassion Without Borders, hosted by Kim Maynard, Mansfield Fellow in International Affairs
Local Food Vendors
Clove Cart Pizza Peddlers, 4-8pm
Bao Chow Hot Asian Buns, 5-8pm
Covered Wagon Hot Dogs, 5-8pm
Special Art Show
"Wild Propaganda," by award winning independent film director and artist Rob Whitehair from Tree and Sky Media Arts.
Mini-Farmer's Market
Produce for sale from Blue-Eyed Dog Farm.
11am-2pm or as supplies last.
Beer on Tap
Merging Waters River Ale
Drum Major Radical Amber
Freedom Fighter IPA
Navigator Dry Stout
Lone Voice Double Red
The Liberator Double IPA
Only Small Things Session IPA
After Party
The Top Hat Lounge, located at 134 W. Front St. in Missoula, will feature INBC's beers on tap, a first for the brewery, which has been selling beer exclusively out of its brewery taproom for the past six months. The Big Sky Mudflaps will be playing to celebrate their 40th anniversary of performing together. The show is free and begins at 9 p.m.