It may have taken longer than they'd wished to transform the historic car dealership into Kalispell's first craft brewery, but that lengthy bout of hard work seems like the distant past now that Kalispell Brewing Co. has become a central feature of the City's downtown.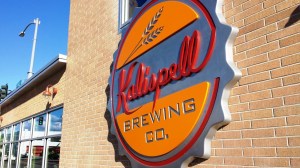 To celebrate its one-year anniversary, Kalispell Brewing Co. is throwing a two-day party with a new beer release, toast (the commemorative kind), cupcakes (yes, these are edible), free BBQ, live music and more on Friday, June 19 and Saturday, June 20.  All the details are in KBC's full press-release below.  To read more about the brewery's early path to success, read my Conversation with Cole Schneider here.
Kalispell Brewing Company Celebrates First Anniversary

June 16, 2015, Kalispell, Montana— In one year of opening as Kalispell's first and only craft brewery, Kalispell Brewing Company has produced 523 barrel or 16,235 gallons of beer. The downtown brewery will celebrate its first year of operation on Friday, June 19th and plans to commemorate the milestone with festivities spanning two days.

Founded in March 2012 by former telemark ski racers, Cole Schneider and Maggie Doherty, Kalispell Brewing Company opened its doors last summer after an extensive two-year renovation project to rehabilitate and convert the Main Street 100 year old brick building into a brewery and tasting room. Since opening, the craft brewery has witnessed significant success, including winning a gold medal at the 2014 Montana Brewers Association's Fall Festival for Schneider's Snowslip Stout.

In March 2015, Kalispell Brewing Company expanded fermentation capacity from 40 barrels to 100 barrels to meet growing demand. While Kalispell Brewing Company sells 90% of its German style lagers and northwest inspired ales directly through its two-story tasting room, the newly founded brewery has increased its wholesale accounts to over a dozen bars and restaurants located in Flathead, Lake and Cascade counties.

Kalispell Brewing Company employs 8 staff members, including a mixture of full and part time staff to work in the tasting room and one part time cellar operator on the production floor. Popular events such as Benefit Brews Night to support local non-profits, live music and Monday night trivia in partnership with Imagine IF Libraries are served up alongside an array of beers poured in style specific glassware. Schneider brews five flagships beers, and over the course of the year has released 13 different seasonal selections. Kalispell Brewing Company is one of three breweries statewide who use the decoction method, an old brewing technique not widely performed in the United States.

To celebrate the first anniversary on Friday, June 19, 2015 Kalispell Brewing Company will release a summer favorite, Coin Toss Cream Ale at noon. At 6 p.m., the anniversary will be marked with a collective toast in the tasting room. Saturday, June 20th, 2015 is the customer appreciation party with free BBQ from D &T BBQ served from noon to 2p.m., free Snowslip Stout cupcakes from Ceres Bakery at 4p.m. and live music at 5p.m. with Springwagon String Band. The public is invited to attend all events.

Featuring a unique lineup of German style lagers and northwest inspired ales, Kalispell Brewing Company is open noon to 8:00pm Monday through Saturday. Kalispell Brewing is located at 412 Main St. Contact the brewery at (406) 756-2739; visit www.kalispellbrewing.com.