2015 Marathon Beer Run and Missoula Area Beer Guide

Welcome Runners! (And their families and friends!)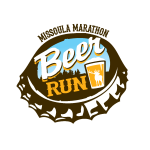 The 2015 Missoula Marathon weekend takes place July 10-12 and again kicks off with the Missoula Marathon Beer Run on Friday, July 10. This super cool event pulls in hundreds of runners from around the world for an easy three or file mile run, followed by food, fun and fellowship. And beer!
The start/finish of the Beer Run has a new location this year, taking place in the welcoming shade of Bess Reed Park. You'll find the park between the Holiday Inn Parkside (clever name, eh?) and the Clark Fork River in Downtown Missoula.
Questionable beer run guides from Run Wild Missoula, myself included, will be on hand at the Beer Run to make sure participants don't get lost. Afterwards (or during, if you're not taking in a run), Missoula's Big Sky Brewing Co., a major sponsor and "official beer" of the Marathon, will feature a few of its beers. There is no need to register for the Beer Run and the event begins at 6:00 p.m.
Aside from the Beer Run, the Missoula area is rich with craft beer culture.  Read on for information about Missoula's breweries, better beer bars/restaurants and bottle shops.  And if you have time for a side trip, additional suggestions follow.
Missoula Breweries
Missoula has two new breweries since the 2014 Marathon, bringing the total to six, and a third will open later this summer.
Bayern Brewing, 1507 Montana St., is Montana's longest currently operating brewery, opening in 1987, and remains the only German brewery in the Rocky Mountains.
Just a short hop from Missoula's airport is Big Sky Brewing, 5417 Trumpeter Way, Montana's largest, maker of the well known Moose Drool Brown Ale, and long-time sponsor of the Missoula Marathon.  Stop by for some free samples and browse their extensive selection of Big Sky logo gear.  They don't sell pints, but will readily fill your growler with any of their fine selections.
Draught Works Brewery, 915 Toole Ave., is located in a converted warehouse with a modern industrial feel and quite possibly the best outdoor patio space in Missoula. It's a great spot to relax after the race and be sure to grab some food from the Burns Street Bistro food truck frequently parked outside.
Great Burning Brewing Co., 2230 McDonald Ave., offers up one of the best smoked porters around and a wide variety of other ales from head brewer Mike, whose brewing pedigree includes San Diego's famous Stone Brewing Co.
Missoula's newest brewery, Imagine Nation, 1151 W Broadway, is quickly establishing a reputation for its well-crafted beers to pair with its friendly taproom and patio which overlooks the Clark Fork River.
KettleHouse Brewing offers up two very different locations to check out, the iconic south side K-hole, 602 Myrtle St., so named for its . . . um. . . eclectic seating options and austere surroundings, and it's Northside location, 313 N 1st St W, with its comfortable brick and wood interior of a converted warehouse along the railroad tracks. Kettlehouse's Cold Smoke Scotch Ale is one of the most popular beers in Montana.
Missoula Brewing Co., 200 International Drive, is under construction, but hopes to be open just in time for Marathon weekend. Once completed, the brewery will include a pizza kitchen and is located just a short walk from the concentration of hotels on North Reserve Street.
Want a great story to tell the friends back home?  Arrange for a tour on the Thirst Gear Pedal Pub, a crazy looking 15-passenger pedal powered bike that will get you from brewery to brewery in style.
Missoula Beer-centric Bars and Restaurants
Open since April, The Dram Shop, 229 East Front St., features 37 taps of craft beer, cider and wine and specializes in growler fills in many sizes. Conveniently located in downtown Missoula, you'll find local and regional specialties on tap as well as a few international selections in a wide variety of styles.
Nearby Flathead Lake is home to two breweries which have tap rooms/restaurants in Missoula.  Tamarack Brewing Company (Lakeside, MT), 231 W Front St., is multifaceted with a sports bar downstairs and a more family-centric area upstairs.  Flathead Lake Brewing Company (Bigfork, MT), 424 N Higgins Ave., also has two distinct areas with a full service restaurant on the first floor and an occasionally open bar with pub food on the second.
The Rhino Bar, 158 Ryman St., is well known around Montana for its 50 tap handles containing many from Montana and far beyond.  Don't let the gruff exterior (or interior) dissuade you.  Head on in, pull up a bar stool at this quintessential Montana bar and get ready to be entertained by watching some of Missoula's best wildlife.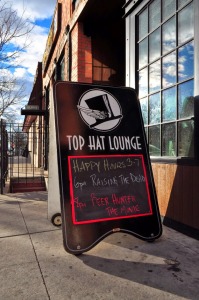 For some finer dining, Caffe Dolce, 500 Brooks St., and the Red Bird Wine Bar, 111 N Higgins Ave., offer small, but carefully selected tap selections and interesting bottle choices to pair with excellent food at reasonable prices. Caffe Dolce has a fantastic patio on which to enjoy the great Missoula summer evenings.
The Top Hat Lounge, located just a few steps from the Marathon finish line at 134 West Front Street, offers a good selection of Montana craft beer taps and excellent small plates in the City's best venue for live music.
Missoula Bottle Shops
Need a six-pack of some Montana made beer or a mix-sixer of beers from around the world?  Summer Sun Garden and Brew, 838 W Spruce St., boasts Missoula's best selection and is a very short walk from Draught Works Brewery.  Worden's Market, 451 N Higgins Ave., also has a very nice selection as do Pattee Creek Market, 704 SW Higgins Ave., Orange Street Food Farm, 701 S Orange St., and Good Food Store, 1600 S 3rd St W.
If You Have a Day+ to Explore
If you're a beer fan with a little extra time around the Marathon weekend, Western Montana has much more to offer in the way of beer exploration.
The Bitterroot Valley
For an easy day trip, head south out of Missoula on Highway 93 into Montana's Bitterroot Valley and take in any combination of the following breweries (from north to south):  Lolo Peaking Brewing Co. in Lolo, Wildwood Brewery, on the outskirts of Stevensville, Blacksmith Brewing Co., in the heart of Stevensville, Montana's oldest town, Higherground Brewing Co. and Bitter Root Brewing, both in Hamilton, and Bandit Brewing Co. in Darby.  Round trip from downtown Missoula to Hamilton is approximately 90 miles.  (Including Darby adds another 34 miles.)  To really take in the Valley, head down to Hamilton on Highway 93 and return via the Eastside Highway – Highways 269 and 203. There's plenty more to see along the way than beer.
If riding along with a knowledgeable designated driver is more your style, Montana Brewery Tours and Tap Room Tours offer beer lovers fun, educational, customizable trips and behind the scenes access to the breweries in the Bitterroot Valley and around Missoula.
The Flathead Valley
Montana's famed Flathead Lake/Valley is easily accessible from Missoula by heading north on Highway 93, though you'll be able to enjoy it more by turning it into an overnight trip with a stop in Kalispell or Whitefish.
Polson is where you'll first get a look at Flathead Lake and that jaw dropping sight will have you stopping to take pictures (perhaps your second stop after your first sight of the Mission Mountains).  You'll find Glacier Brewing Co. south of downtown Polson.  Head up the east side of the lake (Highway 35) through the Flathead Cherry orchards and you'll come to Flathead Lake Brewing Co.'s original facility in Woods Bay followed five miles later by their new facility in Bigfork, one of Montana's most picturesque towns.
Continue on to Kalispell and take in Kalispell Brewing Co. on downtown's Main Street (and stop in at Hop's Downown Grill for a selection of local beers and fantastic burgers).  Fifteen miles north, you'll find Great Northern Brewing Co. and Bonsai Brewing Project in the City of Whitefish. (At this point you're only 25 miles from Glacier National Park.)
Return to Missoula on Highway 93 to take in the west side of Flathead Lake and you'll find Tamarack Brewing Co. in Lakeside.  Tamarack recently won the National IPA Championship for its Headwall Double IPA.
Round trip mileage on this route is approximately 280, thus the preference for making it an over-nighter.
______________________________________________________________________________________________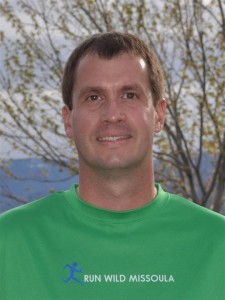 Alan McCormick is an attorney, beer writer, runner, award-winning homebrewer, and co-creator/organizer of Missoula Craft Beer Week. He is the Montana Columnist for the Rocky Mountain Brewing news and writes regularly at his blog Growler Fills: Craft Beer Enthusiasm. Alan has run the Missoula Marathon twice and this year will mark his third Missoula half-marathon. His only running recognition was a first place in his age group at a local 5-k. He was the only entrant in the group.  You can contact him for more info at: alan@growlerfills.beer.