The Brewing News recently completed its annual IPA and Imperial IPA competitions and a Montana beer took home top honors.  After seven rounds over five weeks of single-elimination knockout competition, pitting beer against beer, Tamarack Brewing Co.'s Headwall Double IPA emerged as the best of the best.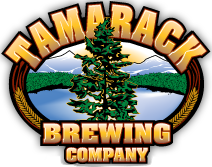 The Lakeside, Montana brewery's Headwall won head to head comparisons by professional beer judges against regional and national powerhouse double and triple IPAs from Reuben's Brews, Knee Deep Brewing, Fat Head's Brewery, Boneyard Beer Co., Barley Brown's Beer, Brew Kettle Production Works (the 2014 champion), and Lynnwood Brewing Concern.
Along the way, it outlasted several perennial medalists from the Great American Beer Festival and North American Beer Awards as well as top selling beers from national breweries such as Stone and Rogue.
Tamarack's Head Brewery Joe Byers says they first brewed this version of Headwall in November 2014 upon receiving their fresh contract of hops, including the difficult to obtain Mosaic. "We used nearly an entire box (44 pounds) of Mosaic on a ten barrel batch, also utilizing Amarillo and Chinook," says Byers. "After four dry hops and a ten day conditioning period, we tapped it and hopped on the Headwall wagon.
"It is a light bodied and balanced double IPA at 9.5% abv and 85 IBU, with tropical and piney floral aroma and hop complexity begging for another taste. It flew out of the Lakeside pub and we made another batch of it right after the new year."
Byers and Tamarack entered Headwall in the Brewing News' national competition hoping to make a bit of a run, but knew they were in for a difficult challenge over the five week process.  "Every weekend became more and more intense, as we refreshed our web browsers over and over and over and over, waiting for the latest round's results to be posted," says Byers. "If my neighbors were ever home during the aftermath of a new round's results, I'm sure they picked up their phones and considered calling the authorities for fear of imminent cardiac arrest."
If you'd like to try Tamaracks nationally recognized winner, both the Lakeside and Missoula pubs still have a couple of kegs left.  They'll be tapping more in late May while releasing some other powerful IPAs, including Citra Mafia, the collaboration with Missoula's Draught Works Brewery, a SMaSH Triple IPA with Maris Otter Malt and Citra hops which boasts 11.5-12.0% abv.
To see the entire bracket of beers, head to the Brewing News at this link.