Bozeman's Main Street is set to get its first brewery later this spring when White Dog Brewing Co. opens its doors at 121 W. Main St.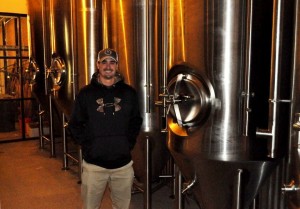 Construction was bustling when we stopped by in mid-January and visited with co-owner/brewer Joe Moore who was awaiting delivery of the rest of his brewing equipment.  When completed, White Dog will feature a 7 bbl brewhouse supported by 7 and 15 bbl fermenters.
The brewery is conveniently located next door to Bozeman Spirits Distillery, giving patrons the opportunity to taste a variety of Montana products while learning how each is made.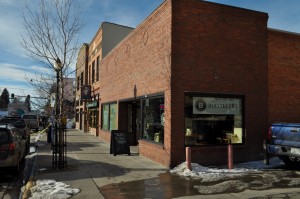 In fact, Bozeman Spirits helped pave the way for White Dog to locate on Main Street. When the City of Bozeman approved the distillery's conditional use permit in 2013, the Gallatin County Tavern Owners Association sued to block the permit.
In a refreshing show of governmental sanity, instead of fighting the lawsuit Bozeman changed its zoning regulations to make it clear distilleries and breweries are welcome on Main Street.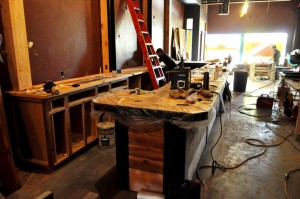 Joe and his brother Troy will brew the beer which will be served in a tasting room blending iron, wood and brick elements into a comfortable, modern industrial feel.  The wood forming the bar shelving comes from reclaimed boards from the original flooring. Bricks used in the bar top were reclaimed from the Lehrkind brewery building when it was torn down last year.
For more recent photos of the construction, head to White Dog Brewing's facebook page.
~ Follow Growler Fills on Twitter and Facebook ~