Jim Devine knows a thing or two about beer.  As co-owner with Sandy Stinnett of Beaver Creek Brewery in Wibaux, Montana, the longtime homebrewers have been bringing great craft beer to the eastern Montana town of 480 residents since 2008.
Fans of Beaver Creek Brewery also understand Jim knows a thing or two about music. Beaver Creek's adjacent historic Gem Theater has become a regional destination for great music, including Jim's own musical endeavors.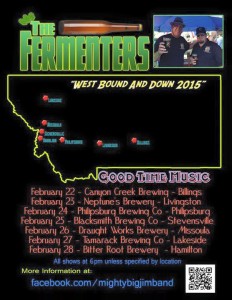 Now Jim is taking the show on the road and coming to a Montana taproom near you. Performing as The Fermenters – a duo comprised of Jim and Casey Malkuch, the brewery's assistant brewer – they kick off their state-wide tour tonight at Canyon Creek Brewing co. in Billings.  From there, the duo head to Neptune's Brewery,  Philipsburg Brewing Co., Blacksmith Brewing Co., Draught Works Brewery, Tamarack Brewing Co. and Bitter Root Brewery. For dates, click on the poster.
What can you expect when you turn out for a show? "People should expect a lot of original material within the two hours," says Jim. "I've been a singer/songwriter a lot longer than I've owned a brewery. We will be playing acoustic guitars, electric guitars, steel guitar and harmonica.  Pretty loose show but quality at the same time."
"Craft beer customers are very similar all over the country and they appreciate and listen to live music and get into original material," notes Jim. "Getting home early will be very unique to performing at [Montana's] tap rooms.  Live music and craft beer just go together."
Jim is also launching a new classic rock band called Mighty Big Jim and The Tall Boys later this year.