The House Business and Labor Committee of the Montana Legislature has scheduled HB 326 and HB 336 for hearings on Friday, February 6, at 8:00 a.m. The bills represent different approaches to an issue facing the brewing industry.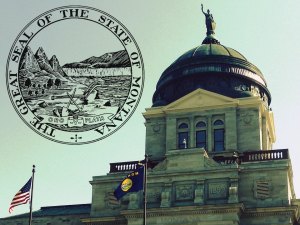 HB 326, dubbed the "Montana Brewers Act" is supported by a coalition formed between the Montana Tavern Association and the Montana Brewers Association.  It would allow breweries to directly purchase a retail license (from the open market in most areas), permitting them to have all the privileges of a regular bar.  Current retail locations (i.e. bars) would be allowed to obtain a brewery license (from the State).
It would also allow breweries producing between 10,000 and 60,000 barrels per year to sell beer for on-premise consumption, but only if such sales do not exceed 500 bbls per year. New brewery license applications would now be subject to the "determination of public convenience and necessity" requirements.  This process requires public notice, an opportunity for the public to protest the issuance of a license, and other regulatory considerations.
Confusingly numbered HB 336, supported by a group called the Coalition for Beer Fairness, does just one thing. It would raise the current production limit/cap for on-premise sales at tap rooms from 10,000 to 60,000.  It is being offered as an alternative to the Montana Brewery Act which many argue further entrenches Montana in it's restrictive license quota system.
The issue being addressed, in the broader perspective, relates to restrictions on tap rooms.  In Montana, "small brewery" tap rooms are allowed to sell beer for on-premise consumption, but only between the hours of 10:00 a.m. and 8:00 p.m. with a maximum of 48 oz. per person per day.  A small brewery is one producing between 100 and 10,000 bbls per year.
These restrictions have been in place since 1999 when Montana had only a handful of breweries. The brewers worked with the Montana Tavern Association to create the compromise bill allowing on-premise sales.  The breweries desired the bill to help foster growth in the industry. Given Montana politics at the time and fifty years of history, the bill's passage would only happen with the MTA's support.
Many members of the MTA have long lamented the bill, claiming it was never intended for the brewery tap rooms to be quite so successful (to paraphrase). Indeed, Montana's brewery tap rooms have became family-friendly places to gather over a beer that differ vastly from traditional bars.
During the 2011 Montana Legislative session, the Montana Brewers Association supported a bill to shift the tap room hours, hoping to allow brewery tap rooms to stay open until 10:00 p.m.  That bill was dead on arrival.
Two years later, following more than a dozen new brewery openings and the continued rise in popularity of tap rooms, the Montana Tavern Association sponsored a bill to severely restrict tap rooms. That bill would have effectively forced existing breweries to buy a license for $100,000 in order to sell alcohol for on-premise consumption, while granting new breweries only limited privileges to sell on-premise.
That bill ultimately died in committee, thanks in part due to an outpouring of opposition from craft beer fans who stepped forward to support "their" breweries.
In allowing breweries to directly purchase a retail license from the open market (if one is available), the Montana Brewery Act would give breweries full bar privileges without having to do a complicated workaround (by "owning" a retail licenses via an indirectly related entity).   Thus, breweries purchasing such a license would be allowed to operate between the hours of 8:00 a.m. and 2:00 a.m. and have no limits on the amount the brewery serves any one person each day.  The total number of retail licenses available in each market would not change.
To get this ability for "license stacking," the Montana Brewers Association has agreed to allow current retail locations (i.e. bars) to purchase a brewery license (which are unlimited).  The MBA is also allowing breweries to be subjected to the "public convenience and necessity" provisions of state law, something which has never previously been applied to breweries. It is an added regulatory burden to obtain a license for a new brewery.
The Coalition for Beer Fairness' bill, HB 336 would not change the current prohibition against concurrent ownership of a brewery and retain license, but would change a production barrier that causes problems for brewery growth.  A growing brewery must give up its tap room (or indirectly purchase a retail license and shift the tap room over to a different owner) when its production exceeds 10,000 bbls in a year.  HB 336 would raise that limit to 60,000.  Only one Montana brewery, Big Sky Brewing  Co, is anywhere near that limit.
The House Business and Labor Committee meets in Room 172 of the State Capital.