Rep. Tom Berry, Chair of the Montana House Business and Labor Committee, announced this morning the Committee would take action on House Bill 326 and House Bill 336 tomorrow morning, Wednesday, February 11.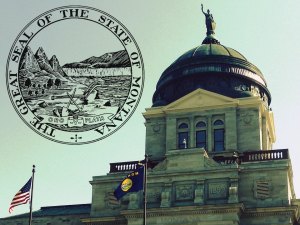 The Committee was expected to take action today, but reports indicate Rep. Ryan Lynch requested the delay while amendments are being processed. (More on that below.)
HB 326 would allow breweries to directly purchase a retail license (from the open market in most areas), permitting them to have all the privileges of a regular bar.  Current retail locations (i.e. bars) would be allowed to obtain a brewery license (from the State). It would also raise the "small brewery" cap for on-premise sales/consumption from 10,000 and 60,000 barrels, but only if such sales do not exceed 500 bbls per year. Brewery license applications would now be subject to the "determination of public convenience and necessity" requirements, a regulatory hurdle not currently applied to breweries.
HB 336 would increase the "small brewery" cap for on-premise sales from 10,000 barrels to 60,000 barrels without limiting the maximum yearly amount which could be sold for on-premise consumption. It would also clarify that the 60,000 barrels is calculated based on the production of all affiliated companies as well as amounts brewed for the brewery on a contract basis.
Rep. Mike Lang is expected to offer a friendly amendment to HB 336, replacing the proposed definition of affiliated companies to drop the contract brewed amount from the calculation and make other adjustments.
Rep. Steve Fitzpatrick is expected to offer an amendment to HB 336 to eliminate any definition of affiliated companies, thus potentially allowing breweries to break their organizational structure into separate facilities in order to avoid the 60,000 cap.
Rep. Lynch is expected to offer an amendment to HB 326, the MTA/MBA bill, to reduce the production cap on self-distribution rights from 10,000 down to 6,000.  Such a provision would represent further erosion of breweries' rights.  Neither organization would benefit from such a reduction. Thus, this amendment appears little more than a move by the MTA/MBA coalition to create the appearance of trying to work with the Montana Beer and Wine Distributors Association which opposed HB 326.
To provide comments to committee members, you'll find e-mail addresses and phone numbers at this link.
The House Business and Labor Committee will meet at 8:30 a.m.  There are four (non-beer) bills on the schedule for a hearing tomorrow before the Committee.  Discussion on HB 326 and HB 336 is expected to occur after the hearings on these bills.
You'll find the rest of Growler Fills' coverage here:
The Band-Aid of Montana Beer Laws: Will the Real Solutions Please Step Forward?
Montana Legislature Begins Debate on Beer Bills.
Three Beer Bills Head to Hearing Friday at Montana Legislature.
"Coalition for Beer Fairness" Forms to Support Pro-Beer Act
Showdown Looms: Competing Beer Bills Headed to Hearing
Text of Competing Bill to Lift Barrel Cap for On-Premise Sales Released
Text of MTA/MBA License Stacking Bill Released
MBA, MTA Change Stacking Proposal, Go on the Offensive
Montana Distributors Withdraw from Coalition, Support Alternative
When a Coalition Lacks Unity: The Future of Montana Beer Takes an Interesting Path