[Note: A version of this story first appeared in the October/November Issue of the Rocky Mountain Brewing News. Look for the Rocky Mountain Brewing News in breweries, bottle shops and select bars throughout the Rocky Mountain region. If you have story ideas or news items for future issues, send them to me at alan@growlerfills.beer ]
Step into Blackfoot River Brewing Company's taproom in Helena, Montana's historic downtown any evening of the week and you'll be greeted by two large crowds. One patiently waiting to fill growlers, the other filling every seat and spot to stand while drinking Blackfoot River's excellent beers and catching up on the day's news.
After fifteen years in business, Blackfoot River's fans are as passionate about the beer as the guys who started it all.
Those guys are Brian Smith, Brad Simshaw, and Greg Wermers. Avid homebrewers, Brian and Brad started Helena's Howling Wolf Homebrew Supply in 1995, admitting their main motivation was the ability to purchase malt and hops at wholesale prices. Greg joined them later and the three started kicking around the idea of starting a brewery.
Choosing A Path
"I would finish the day at Miller's Crossing, my favorite watering hole, and have a pint," says Simshaw. "I would watch customers come up to the bar and take note of what they ordered. The fact that craft beer cost a buck or so more than domestic beer didn't slow affect their choice one bit. Seeing people do that made me believe that the craft beer climate in Helena was good."
"I figured that if people were buying good beer that was made 500 miles away from where they lived they would buy good beer that was made 5 miles away from where they lived." After much planning and hard work, Blackfoot River received its final brewing permit on December 31, 1998.
The initial brewery was sandwiched into tight quarters adjacent to their current facility. "We started out with a pieced-together 7 bbl 'brewhouse,' one 14 bbl open fermenter, two 7 bbl Grundy's as conditioning/carbonation tanks, and about 80 kegs," recalls Smith. "At that point we could brew one 7 bbl batch per week. We self-distributed to about ten accounts in Helena and sold growlers out of the taproom."
Finding Fans Came Quickly
"The craft – 'micro' back then – beer climate was certainly much smaller than today," says Smith.  "Accordingly, selection in both stores and bars and restaurants was much less. Fewer consumers as well.  We opened with the focus of being a local brewery and initially had no real plans to send beer outside of Helena."
Thanks to the area's beer fans, it took little time for Blackfoot River to hit capacity. "Those first batches were adopted recipes from our home brewing so we knew how the beer should taste," says Simshaw. "The thrill comes when you brew a style of beer that you have never brewed before and you think it tastes great and, even better, the customers think it tastes great. Thankfully that thrill has never gone away. It is why you become a brewer in the first place."
Within two years, the brewery added additional conditioning tanks and fermenters, moved to a 15 bbl brewhouse, and soon began distributing to other Montana cities. In 2004 Blackfoot River purchased most of its current equipment from a defunct Colorado brewery, though it sat in storage until the new facility was completed in 2008.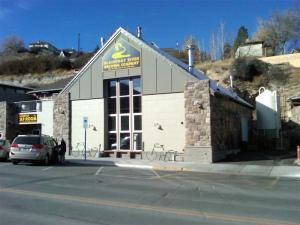 "We have grown a lot in other ways as well," Smith is quick to add.  "We had to become much smarter business people, and pay a lot more attention to our organization than in the beginning.  In the beginning we were just three guys who really liked beer and brewing it."
"Providing a good product and good service won't guarantee success, but failing to do those two things will guarantee failure," notes Simshaw.  "Every decision you make affects your brand – your logo, beer names, taproom layout, method of advertising, the employees you hire, your social media.  What you decide not to do can be as important as what you decide to do."
It is clear Blackfoot River has made the most of its many decisions along the way. Two years ago, the brewery switched to style-specific glassware. And from day one the original three partners chose to serve a free pint while they clean, sanitize and fill each customer's growler.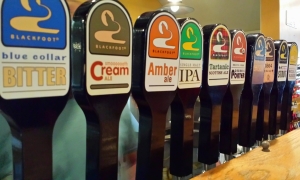 The practice gave patrons a reason to hang around and chat while creating a culture that is the envy of breweries in Montana and beyond. Averaging more than one hundred growler fills each day, Blackfoot River is on pace to approach 40,000 fills this year. "It gets pretty crazy at the growler station on a Friday where we might fill a growler every 60 seconds for the entire six hours we're open," says Smith.
Matt Miller, a beer enthusiast and frequent visitor to Blackfoot River, sums up a common experience at the brewery. "When you walk into the taproom you'll see just about every type of person coming together to enjoy a good beer with good people, which reflects Blackfoot's motto 'Real good beer, made by real good people' quite well," Miller explains. "There is really nothing quite like it. You just feel at home even if it is your first time going to the taproom."
Staying True to Quality
Known throughout Montana for its Single Malt IPA, which uses 100% Crisp Gleneagles Maris Otter floor-malted barley and a generous dose of Simcoe and Cascade hops, Blackfoot River keeps a wide variety of beers on tap and a frequently rotating cask selection as well.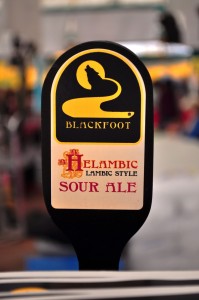 From the Belgian wit to the imperial stout and the 1864 Old Ale, their philosophy for brewing has stayed the same from day one. First, use top quality ingredients like the Maris Otter and Malteurop's Montana-grown and malted two-row Metcalfe barley. Second, be sure to leave the good stuff in the beer; all Blackfoot River beers are unfiltered, requiring extra time to produce the beer, but leaving in complex sugars which lend body, mouth feel and a bigger malt characteristic. And third, make sure consumers get the freshest beer. With the exception of a very small quantity of specialty, bottle conditioned beers, Blackfoot River's beers are available only on draught.
"Some craft brewers are adopting more industrial methods of making beer that I think are pushing the lines of what I would call 'craft,'" says Smith. "There are many craft brewers that are using hop oils and extracts in their beers to improve consistency and efficiency because hops are expensive.  I just don't think adding industrial CO2 extracted, concentrated hop oil to your beer is traditional or craft."
"It is not traditional or artisanal," he notes.  "I always get suspicious when I have a beer that has been filtered bright, and yet has an intense, over-the-top bouquet of hop flavors and aromas.  A lot of the lovely flavors and aromas you get from dry-hopping just get stripped out from filtration, so how do they end up in that beer again?"
"It's not my job to decide how "craft" should be defined," says Smith, "but I can say it is not something that we would ever do."
"No matter what style of beer you enjoy, they brew it and do an incredible job doing so," says Miller. "Every visit I leave with a smile on my face. So much so that my wife and I refer to the Blackfoot as our 'happy place.'"
Fans clamoring for more Blackfoot River beers in their local towns might not want to hear it, but when asked what's next for the brewery which is all but maxed out on space, Simshaw and Smith echoed each other. "We don't want to get bigger, we want to get better."