It may be nothing more than an arbitrary point on an arbitrary calendar, but the last week of the year always sets our minds toward reflection. A chance snowstorm brought a pleasant white Christmas to Missoula this year. A pending snowstorm has Montana's doing pretty much what they always do before a snowstorm . . . . continuing on with life as normal.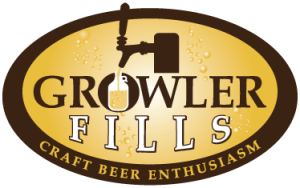 With that context, it's time for a look back at a few of the stories, commentaries, and useless (but hopefully entertaining) fodder that filled the pages of Growler Fills in 2014.
Late January brought news that Big Sky Brewing Co. was dropping it's lawsuit against AB-InBev over Bud Light's use of the phrase "Hold my beer and watch this."  The dispute demonstrated a number of importantly points, chiefly that the general public lacks an understanding of the finer points of trademark law (to be expected), and Big Sky proved that remaining professional is the preferred posture during such disputes.
January also brought a fun reflection on the beer culture in Montana, a piece that became a top five finalist in the National Beer Wholesalers Association's beer writing contest.
February, typically a slow news month, proved to be so once again. Great Northern Brewery had to cancel its popular Beer Barter due to insurance concerns. In the ever fascinating world of beer legislation, proof that Montana does not have the weirdest beer laws as Georgia considered adopting what amounts to a doggie bag for beer. I started a post on hop-infused cheese made in Montana that I never finished (still). Safeway totally butchered the nomenclature of beer, though we won't have to worry about that in Missoula for much longer. Not that we were.  (I later doctored up Safeway's signs a bit).
In March,The Session asked Why Do We Drink, while Montana was curiously named one of the most beer friendly states, something I took issue with.
April brought news that Montana was expected to be the top barley producing state in the U.S. for 2014, a story that would circle around in October.   Montana's U.S. Senators entered the fray over the Food and Drug Administration's proposed rules over the handling of brewer's spent grain, rules which would have practically ended the practice of giving spent grain to local farmers for livestock feed.  The Session brought a Giant Conversation About Beer and, totally unrelated to beer, I asked "Can You Do The Impossible?"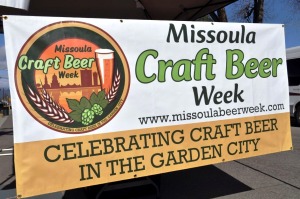 The end of April and beginning of May is perhaps the busiest time of my beer year.  Ryan Newhouse and I run all over Missoula trying to make sure Missoula Craft Beer Week continues to be a city-wide showcase of beer.  For the third year of this labor of love, we added a signature event: The Craft Beer Cup, a mini-golf tournament featuring nine bars and eleven breweries. More importantly, the event raised more than $1,100.00 for the Missoula Food Bank.
A visit to Spokane and the new Perry Street Brewing Co. closed out the month of May.  Perry Street was started by Montana native and former Big Sky Brewing Co. brewer Ben Lukes and wife Christy. I joined the Rocky Mountain Brewing News as its Montana columnist.
June saw doughnut and beer pairings for National Doughnut Day, and Montana's breweries posted a strong showing at the North American Beer Awards.  Nearly every beer blogger in the country took turns addressing the Food Babe's brand of yellow journalism.  Kalispell Brewing Co. opened and I had a conversation with brewer/co-owner Cole Schneider.
Oregon's Ninkasi Brewing Co. kicked off July by ordering Montana's Yellowstone Valley Brewing to cease and desist using Ninkasi's trademarked "Pints for a Cause" charity event name.  New breweries were popping up like Christmas in July.  I wondered who would save the "idea" of craft beer and checked out Thirst Gear and the Billings Brewery District Walking Tour as alternative takes on "beer travel.'"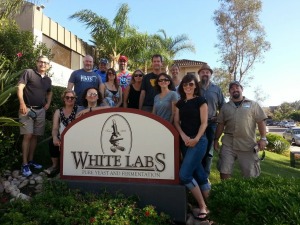 The heat of August had us talking about Beer Criticism for The Session. A trip to San Diego for the Beer Bloggers Conference, always a highlight of the beer year, kicked off with a limo ride to AleSmith, White Labs, Societe and a couple more of the city's 90+ breweries.  Meadowlark Brewing and Great Burn Brewing opened in the last week of August while Missoula Brewing Co. announced plans to build a brewery and revive the Highlander brand.
September was a month of events: Draught Works Brewery's Chain Reaction Fresh Hop Festival, Bozeman Brewing Co.'s Hop Harvest, Butte-tober Fest, Billings' Ales for Trails and even yoga at the Cabinet Mountain Brewing Co., to name a few.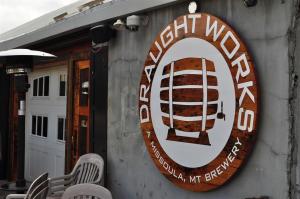 October rolled around with a big surprise for Draught Works Brewery, winning the GABF's Very Small Brewer and Brewery of the Year award while holding its customer appreciation day.  Other Montana breweries brought home some hardware, too.  More than one-hundred thirty beers showed up for the Montana Brewers Association's sixth Fall Festival.
The second annual Montana Mashup Homebrew Competition featured some great speakers and excellent beer.  After a month of devastating news about area barley crops, representatives from Malteurop's Great Falls facility explain what they're doing to make the most of difficult crop conditions.
November brought word that Ninkasi Brewing Co. was pulling distribution from Montana, two and a half years after blanketing the state with a major roll out. Citing limited demand for its product, the news was met with a mild yawn from most of Montana's craft beer fans. In a celebration of all-Montana beer, the Montana Farmers Union held a professionally judged competition in Great Falls, exceeding expectations with more than 170 beers entered. I even wrote about soap.
Which brings us to December. While December's news is still fresh, it's also just the beginning of another active stretch of alcohol related issues for the upcoming 2015 Montana legislative session.  The MBA and MTA talked of a coalition, while the MBWDA stepped away and proposed an alternative. I wrote about getting lost in the Montana beer scene.  That's a good thing in this context.
There you have it.  Another year of Growler Fills: Craft Beer Enthusiasm.  Thanks for coming along for this great conversation about beer.