Soap. That's probably not something you expected to read about on Growler Fills. So how do I make soap interesting to readers of a beer related blog? Add beer to it, of course.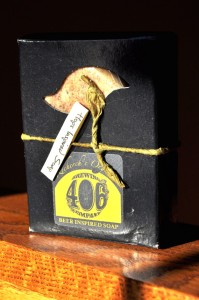 Matt Muth of Bozeman's 406 Brewing Co. and Hillari Ladd, owner of Recherch'e Organics, have paired up to create a fun line of soaps, in part to help the brewery find another use for its waste stream.
This is no soap on a rope.
Recherch'e Organics and 406 created four soaps, with each soap representing one stage of the craft beer process.  The Hops Infused Soap uses a bend of Simcoe and Cascade hops. Each bar of the Beer Infused soap is made with 1/2 ounce of 406 Brewing's Oatmeal Stout. The Draft InGrained Soap is made from spent grains from 406 Brewing's beer.
The Brew soap combines all three into a tri-colored soap, starting with a layer of hops, a layer of spent grain soap, and finally a layer of the Oatmeal Stout beer soap.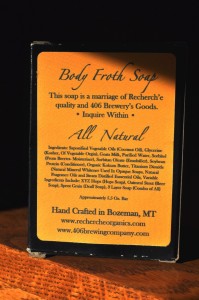 Recherch'e Organics sent me with a bar of the Hop Infused soap to try out. It's got a very pleasant earthy/musky aroma with a bright floral component, though I wouldn't immediately identify any of the aromas as hops. It lathers well, rinses well, and leaves a soft feeling and more of that nice aroma.
Hey, that's about the extent of my soap review capabilities.
In any event, these things would certainly make a good stocking stuffer for the beer-fan-who-has-everything or anyone looking for some quality soap from an eco-friendly Montana connection. You'll find Recherch'e Organics' products at this link.