Missoula will be the center of the Montana beer scene this Saturday, October 11, when the Montana Brewers Association comes to town with its annual Montana Brewers Fall Festival.
With the MBA continuing to grow along with the rise in Montana breweries, Saturday's festival is poised to smash records for the number of participating breweries and the number of beers.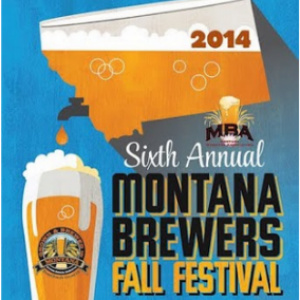 All Montana-made beers. One hundred thirty-seven of them from 33 MBA member breweries.
If that doesn't get you excited, I can't help you. (And why are you reading this blog?)
Festival beers – those brewed for the first time and released at the Festival according to the event information – will be tapped at 3:00 p.m. and again at 6:00 p.m. to spread out the opportunities for sampling. (Truth be told, several of these are already on tap at the respective brewery, or are previous seasonals, but there are plenty of new ones to capture your attention.)
For the 3rd straight year the Festival takes place in Missoula's Caras Park, just a long hop bine from the Clark Fork River and Brennan's Wave.  General admission to the Festival begins at 3:00 p.m. and runs until 8:00 p.m. VIP admission is also available and will get you in the figurative door at 2:00 p.m.
Tickets are $20 (regular)/$30 (VIP) in advance and $25/$35 at the gate. Admission includes a 9 oz tasting glass which you can use to get unlimited 4 oz samples.
Here's the tentative schedule:
2:00 – 3:00 – VIP and Brew Crew Card Early Entry with music from Missoula's own Tom Catmull
2:30 – Judging Begins (Judging by the Zoo City Zymurgists)
3:00 – Brewers unveil first batch of 2014 Festival Release Beer
3:30 – 5:30 music from The Growlers
5:30 – Judging Results Announced
6:00 – 8:00 music from Cure for the Common
6:00 – Second batch of 2014 Festival Release Beer
8:00 – Festival ends
For more information and to purchase tickets, head here. For the list of 137 beers, click on this image (you may need to click a second time to get it to expand to a readable size):