Kalispell, in the lush Flathead Valley near the west side of Glacier National Park, last had a brewery around 1955. That changed in June this year when Cole Schneider and Maggie Doherty opened the ten-barrel Kalispell Brewing Company along busy Main Street.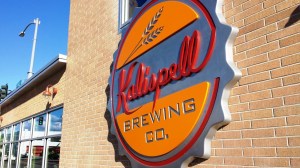 Getting the brewery open in the downtown historic building was a lengthy, challenging process. "The sheer scale of the remodel was far in excess of what I could have imagined prior to doing this," says Cole, reflecting on the year and a half it took to complete the work. "While I may have had the necessary skill set to general contract a project like this, I was pretty green when I first started."
That skill set included much of Cole's handiwork which he began learning at an early age. "My father granted me access to his tool room when I was ten, and after that I spent an inordinate amount of time in there concocting excessively ambitious projects which I'd often fail to complete," he says. "By the time I was a teenager, my skills and follow-through had improved somewhat and I actually succeeded at a few projects, most notably building a coal burning forge."
"I later parlayed some of the things I'd learned to help me build and wire a rather extensive home brew setup," Cole explained. "After all the plumbing and wiring I'd done on for home brewing, it really didn't seem like such a big jump to run CO2 lines from the bulk tank to the cold room or to plumb the glycol lines myself."
If running the plumbing did not seem like a big deal, the entire project certainly did. "Building a brewery takes a lot of work, and running one takes even more," Cole notes. "I thought I could handle all this on my own. I was quite mistaken. Luckily my father helped a ton during the remodel, and Maggie agreed to partner with me and help run the business. If it had been just me, I'm pretty sure Kalispell Brewing wouldn't be opening until next summer."
Cole's introduction to home brewing began when he and a college friend heard about a plant sciences course where students were given the option of home brewing a batch of beer rather than taking the final exam. Though neither took the course, the idea prompted them to brew their first batch of beer a few days later in a cramped apartment kitchen. Like many first time home brewers, that beer did not turn out well, but persistence paid off.
"My early experiences home brewing were much like anyone else's. Start with extract, a few batches later begin steeping specialty grains and creating your own recipes, and a few batches after that, move to all grain," Cole says. "At some point, I became frustrated with inconsistency between batches, so I began to take a little more scientific approach to brewing. I measured the thermal mass of my mash/lauter tun so I could appropriately raise my strike temperature regardless of the size the malt bill. Soon I had a seven page worksheet – which looks a lot like a lab write-up – that I'd use to formulate recipes and record every conceivable detail during brewing and fermentation."
"Basically, I went totally overboard," Cole explains after recounting how he built his own mash mixer and purchased a microscope to start counting yeast cells for more consistent pitch rates. He soon began toying with the idea of starting his own brewery, but the mid-nineties craft brewing bust was still fresh in his mind.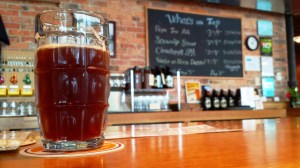 By 2011 the craft beer climate had changed and Cole started considering the idea seriously. "The impetus came largely from my parents and then fiancée (now wife and business partner) Maggie," he says. "If I hadn't had their support, I probably never would have considered it. As much as I loved to brew and wanted to do it commercially, I needed a lot of help and a lot of people cheering me on before I was willing to plunge head first into a project of this scale."
With five flagships now pouring at the brewery and seasonals on the way, Cole feels a sense of relief with the construction behind him. "I walk into work every morning, and cannot believe that the brewery smells like a brewery rather than a construction site. It's an incredible feeling walking into a tasting room crowded with people enjoying beer that I brewed."
~ Follow Growler Fills on Twitter and Facebook ~
---
Note:  This story first appeared in the August/September Issue of the Rocky Mountain Brewing News.  The theme of the issue was "Living the Dream" reflecting those in the industry who had made the leap from homebrewing to commercial brewing.  Look for the Rocky Mountain Brewing News in breweries, bottle shops and select bars throughout the Rocky Mountain region.