The 6th Annual Montana Brewers Fall Festival takes over Missoula's Caras Park this Saturday, October 11, 2014, and there has never been a bigger selection of Montana-made beers at the same place at the same time.  But with 137 beers to choose from, how do you know where to start?
Never fear as Alan (Growler Fills) and Ryan (Montana Beer Finder) are here once again to provide a few tips to help you make the most of this great Festival.
Alan's Tips:
1. Check Out A New Brewery
2014 has been a year of big growth in new breweries in Montana (and beyond) and all but one are pouring at the festival for the first time.  Here are the participating breweries which have opened since the last festival:
Beaverhead Brewing Co., Dillon
Cabinet Mountain Brewing Co., Eureka
Canyon Creek Brewing Co., Billings
Great Burn Brewing Co., Missoula
Kalispell Brewing Co., Kalispell
Katabatic Brewing Co., Livingston
Lolo Peak Brewing Co., Lolo
Meadowlark Brewing Co., Sidney
Mighty Mo Brewing Co., Great Falls
Triple Dog Brewing Co., Havre
2. Pick A Winner
Montana had a very strong showing at the 2014 Great American Beer Festival and Competition held last week with five Montana breweries earning medals and Draught Works Brewery being named Very Small Brewery and Brewer of the Year.  Four of the five medal winners will be at the festival.  Though none plan to pour its medal winning beer, it's an excellent chance to check the breweries out:
Draught Works Brewery  (Gold Medal for Scepter Head; Very Small Brewery of the Year)
Great Northern Brewing Co. (Bronze for Wheatfish Wheat Lager)
Lewis and Clark Brewing Co. (Silver for Back Country Scottish Ale; Gold for Tumbleweed IPA)
Überbrew (Silver for Black Hops Tactical IPA)
3. Make a Short List
With 137 choices, you're obviously not going to be able to taste them all. (That would be 4.28 gallons at 4oz for each sample.)  And let's face it, your ability to appreciate and enjoy the finer points of any beer decreases with each consecutive sample.  Fix this problem by going in with a plan.  Scan the list at the bottom of this post, pick 5-6 beers, put them on your short list, and hit them first.  Here's my list:
Bozone Berliner Weisse, Bozeman Brewing Co. Berliner weisse is a style that was nearly dead only a decade ago.  With today's surge in sour beers, these low-alcohol, slightly sour and lemony wheat beers are enjoying quite the revival.  I'm curious to see how Bozeman Brewing has interpreted the style.
Russian Imperial Stout, Mighty Mo Brewing Co. I've yet to try any of Mighty Mo's beers, so I might as well go big with the first one.  These thick, chewy, robust stouts typically have large doses of dark chocolate and roasted barley/coffee notes, but occasionally dip over to the cloyingly sweet side of beer. Will Mighty Mo's version live up to the dark, complex expectations for the style?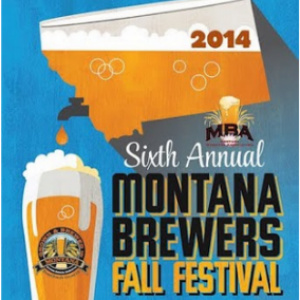 Sticke German Alt, Überbrew.  Pronounced "Shtick-uh," these seldom-brewed German-style alt beers historically represented a bit of freedom for German brewers to make a stronger, darker version of a typical Altbier, a rich, biscuity, malty beer with a definite bitterness. Überbrew will also have their Black Hops 2, an imperial version of their GABF winning black IPA which I had the opportunity to enjoy at the brewery in September.
Local Yokel Double IPA, Tamarack Brewing Co. One of several fresh hop beers, Tamarack's is brewed with hops grown in the Flathead Valley, home of Glacier Hops Ranch, a hop research farm working hard to make Montana a viable state for commercial hop growing. Using hops from the just completed 2014 hop harvest, you know these beers are super fresh!
Imperial Single Malt, Blackfoot Brewing Co.  Blackfoot's Single Malt IPA is hands down one of my favorite IPAs of all time. This imperial version made it into the brewery's very limited bottle releases, one of which is hanging out in my beer cellar. Having the opportunity to try it at the festival means I can hang onto it for a little longer.
(You can bet I'll be getting over to try Flathead's latest as well. They're a rising star in the sour world. And Beaverhead, Meadowlark, Triple Dog, Katabatic . . and other new breweries on the block. And Philipsburg's Black Pine IPA, and HA) Brewing's Saison, and . . . . . )
Ryan's Tips:
1. Ask Questions
The bonus of brewfests is that they are often attended by the same people who make their beer, or at least represent it. Instead of forking over an empty glass to the closest volunteer just because it's empty. Ask the volunteer what they know about the beers they are serving or if a brewery rep (or brewer) is nearby. This was you'll understand more about what you like (or don't like) about the beer once you try it. Maybe you don't like Citra hops, or like a balanced IPA. Learn, learn, learn!
2.  BYOB (Bring Your Own Bag)
There's bound to be some cool swag at this brewfest, from stickers to cool MBA and Zoo City Zymurgists shirts to buy. Stuff a bag somewhere so you can keep up with all the goodies without asking your girlfriend to put it in her purse.
3.  Accessorize
This goes beyond matching your socks, or picking out the right brewery-related t-shirt to wear. Throw a couple sticks of jerky in your back pocket to keep the appetite in check. Or be bold (and envied) by stringing up a necklace of pretzels to clear the palate occasionally. And my favorite new tip that I stole from my recent trip to the Spokane Oktoberfest…bring a mini misting bottle (like this) to rinse your glass between beers. It's so simple yet genius. That way I'm not getting a beer "cocktail" with every new fill-up.
Here's the beer list, updated as of October 7 (you may need to click a second time to get it to expand to a readable size):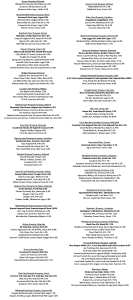 ~ Follow Growler Fills on Twitter and Facebook ~