Try and locate the Missoula Brewing Company this afternoon and all you'll find is a small notation on a bottle of Highlander Beer. That's about to change in a very big way.
Today, the Missoula Brewing Company announced plans to construct a brewery where Highlander Beer will again be brewed in Missoula for the first time since 1964.
Co-owner Bob Lukes says the 15,000 square foot facility will be built along Grant Creek on a 1.5 acre parcel immediately behind Karl Tyler Chevrolet.  Inside will be a 30 bbl brewhouse supported by 100 bbl fermenters.  A bottling system (12 oz. and 22 oz.) and keg washer are being produced in Italy.
The facility will include a pizza kitchen and on-site taproom which will open onto a large outdoor seating area under the cottonwood trees by the creek.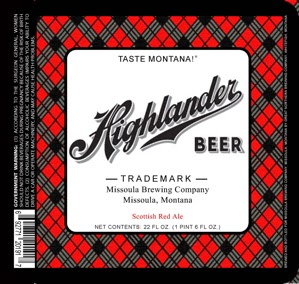 Under the Highlander brand the brewery plans to produce more traditional and sessionable beers.  Lukes says the Missoula Brewing Co. brand will offer more "cutting edge, crazy hopped, fruit infused, and cask aged beers."   The taproom is expected to offer up to twelve beers at a time, spanning the ale to lager spectrum.
Missoula Brewing Co. conducted a national search and selected an experienced brewer to head the operations.  While the owners are not ready to reveal the brewer's identity, they do note it is someone
from outside Montana (lest any local breweries are starting to get nervous).
Construction of the facility is expected to start in September with an opening planned for mid-2015.  Production of Highlander Beer, a Scottish red ale currently brewed under contract, will move to the new brewery.