This month's Session* topic is hosted by Heather Vandenengel at Beer Hobo who raises a very timely and important topic broadly called Beer Journalism.  Here's what Heather wants to know:
What role do beer writers play in the culture and growth of craft beer? Are we advocates, critics, or storytellers? What stories are not getting told and what ones would you like to never hear about again? What's your beer media diet? i.e. what publications/blogs/sites do you read to learn about industry? Are all beer journalists subhumans? Is beer journalism a tepid affair and/or a moribund endeavor? And if so, what can be done about it?
For a bit more context Heather explains, "I pitched this Session idea back in December after seeing a fairly steady stream of griping about beer journalism with little productive conversation about it." Indeed, it's been a growing topic of conversation, rising steadily with the increasing number of breweries, beer blogs and general news from main stream media about the "craft beer boom."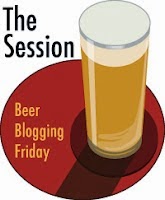 It's a topic fresh on my mind as well.  For the 2014 Beer Bloggers Conference in San Diego in August, I'll be moderating a panel discussion built around the topic of beer journalism ethics and best practices.  While a beer review blog is certainly different than a beer news media site, certain ethical principles and best practices are applicable to all: transparency, accuracy/verification, attribution to sources, and a clearly defined separation between reporting and analysis/opinion.
But what is beer journalism? Is it different than beer writing?  Does it matter and do we care? I get the sense that professionals in this arena draw a distinction, but there is quite a bit of intersection and overlap.  For example,  Oliver Grey at Literature and Libation has written one of my all time favorite beer reviews.  I enjoy it because it is great beer writing , but just as importantly, it really isn't about the beer.
I also enjoy straight reporting on beer.  Take Brewbound.com and their occasional post that digs deeper into a particular subject, such as how many new breweries are blowing well past their predicted production volumes in a surprisingly short amount of time.
Contrast both of those with this fascinating New York Times piece by Jonah Weiner about the identical twins from Denmark who can't stand each other, but each of whom have carved out a prominent place in the craft beer world with the Mikkeller and Evil Twin brewing companies.  Great storytelling for sure, and elements of reporting, too?
Then there are the beer blogs – around a thousand active ones in North America alone.  Only a handful are nationally and internationally prominent.  Several more handfuls are regionally relevant or occasionally contribute on a bigger scale.  Yet, they all contribute in some way to an international conversation about beer.
Blogs are such a blend of storytelling, opinion, and, yes, even reporting, that the notion of them being pounded into one category or another is unsatisfying.  It's just as unsatisfying to the individual writing it.  I am not a journalist, for example, but I am interested in being more journalistic.  Hopefully you've noticed that evolution. 
Journalism is certainly not separate and distinct from great writing. Great writing envelopes us in an emotional cloud while carrying us from paragraph to paragraph as we peek over the billowing white mist in eager anticipation of what's next.  You know it when you read it, to paraphrase Supreme Court Justice Potter Stewart's famous concurrence, and you can find it in any subject, purpose and medium.
All of this is a long-winded way of demonstrating this is not a one-size-fits-all conversation, but is indeed a conversation important to all.  Someone writing a blog devoted solely to beer reviews might not consider herself a journalist, for example.  But she is nevertheless part of this giant conversation about beer.  If she fails to 1) tell you she got a particular beer for free, and 2) fails to admit her review is skewed to avoid pissing off the brewery, we've got a problem.  Transparency just got trampled.
Heather asks what role beer writers play in the culture and growth of craft beer – advocates, critics, or storytellers? Collectively we are all of the above and critics are quick to correctly point out we are extremely top-heavy on the advocacy part.
Modern Times Brewery founder Jacob McKean perhaps best summarized the criticism in a piece appearing in the Voice of San Diego. Writing about the accessibility of world-class craft beer to "just about everyone," he noted this "accessibility and casual vibe leads countless uninformed observers to believe that they can authoritatively comment on craft beer. * * * In an industry with an almost total absence of real journalism, the cheerleading is virtually indistinguishable from the 'reporting."
It would be easy to suggest the bulk of the cheerleading is coming from sources that are neither trying nor intending to be "reporters" or provide "journalism," but I'm not at all certain that is the case.  When was the last time your local newspaper ran a story about anything other than the happy side of beer? 
Brandon Hernandez, a San Diego area food and beverage writer and communications director for Stone Brewing, sparked a lively and important discussion last August with his article "Truth in Beer Reporting and Other Novel Concepts."  In it, he takes on an issue that makes most bloggers squeamish: there's bad beer out there (and many other negative subjects in craft beer) and we're afraid to talk about it.  (Brandon will be a participant in our upcoming panel on beer journalism ethics and best practices).
At least relatively frequent articles about trademark disputes peel back the curtain enough to expose one critical truth about craft beer: it's not all kittens and rainbows and one big happy family. 
Craft beer is, after all, a business.  A very big, quickly growing, and highly competitive business. We treat it differently and cheerlead for it and prop our brewers up like rock stars for another simple, but critical, truth: we love great beer.  Hell, we even love marginal beer if we're drinking it in a great place.
Back to Heather's questions: What stories are not getting told and what ones would you like to never hear about again? The second part of that question is easy.  If I never read another "story" about the "best" beers or the "top 10 breweries" that utterly fails to explain any semblance of methodology, I'll be happy.
The first part of the question is a little more difficult.  How do you know what you're missing if you're not hearing about it in the first place? Nevertheless, here are a few, most of which are well beyond the capability of your average beer blogger:
The politics of beer.  We know AB InBev and MillerCoors spend gobs of money lobbying our federal and state governments for favorable laws and regulations.  But how much do the Sierra Nevadas, New Belgiums, Lagunitases, and Deschutes of the world spend, either individually or collectively through trade associations? And on what? Just because we're fans doesn't mean they should get a pass.
Similarly, what are the stories behind certain state politics and the development of local policies around beer? Why, for example, is Georgia so worried about allowing growlers when other states have enjoyed them for decades? Is it as simple as saying "see story number one?"
What's real and what's hype? Take style-specific glassware.  Just as we're beginning to get people to understand that the style of glassware really does make a difference in your drinking experience, craft beer pops out with the IPA glass and, just this week, the Stout glass.  It it really all just about the money and hype?  Do we have no shame?
The logistic of beer.  How many fingers touch that beer from grain to your glass?  What are the economic and environmental effects? How do our tied-house (and other) laws affect this system?
Given my occupation as an attorney, I come by my interest in the politics and regulatory aspect of beer honestly.  In a sense, I'm also a professional writer.  The vast majority of my job is comprised of written advocacy where clarity, accuracy, attribution, and clear articulation between fact and opinion are essential.
Which brings me to my last point. Heather asks if the state of beer journalism is in such disarray, what can be done about it?  We can write to our strengths and acknowledge our weaknesses. In the citizen blogger category – where I fit – few of us have the time or training to put in ten phone calls and hours of research to develop a story one might recognize as journalism and great writing.
Yet, by using the skills and time we do have, we can each contribute positively to this conversation about beer.  Oliver Gray doesn't write about his state legislature and the intricacies of legislation and politics like I do, one of my strengths.  Rather, he uses his impeccable writing skills to capture scenes and convey context and envelop you in stories that contribute in vastly different ways to the conversation, clearly one of his strengths.  There is room for all.
Indeed, there are many stories which need to be told and we are the ones to do it. One-size-may-not-fit-all, but by adopting the principles of transparency, accuracy/verification, attribution to sources, and a clearly defined separation between reporting and analysis/opinion we can elevate this thing called beer writing.  
____________________________________________
*Today is the first Friday in April which means it's time to take part in The Session, a collective effort of beer bloggers around the world to write on a common topic once each month.