Registration opened yesterday for Missoula Craft Beer Week's inaugural Craft Beer Cup, a mini-golf tournament spanning nine holes at nine bars in Downtown Missoula.  The event takes place on Thursday May 1 during Missoula Craft Beer Week.  Participants will head from hole to hole, keeping score along the way while enjoying the opportunity to interact with a different brewery representative at each bar.
The tournament is limited to only 18 teams of four to six persons each.  Registration is $20 per person and includes a Craft Beer Cup t-shirt, hours of fun, a chance to win prizes and collect schwag, and an after-party at the Top Hat. Prizes will be handed out for Best Individual Score, Best Team Score, Best Dressed, and People's Choice for Best Hole.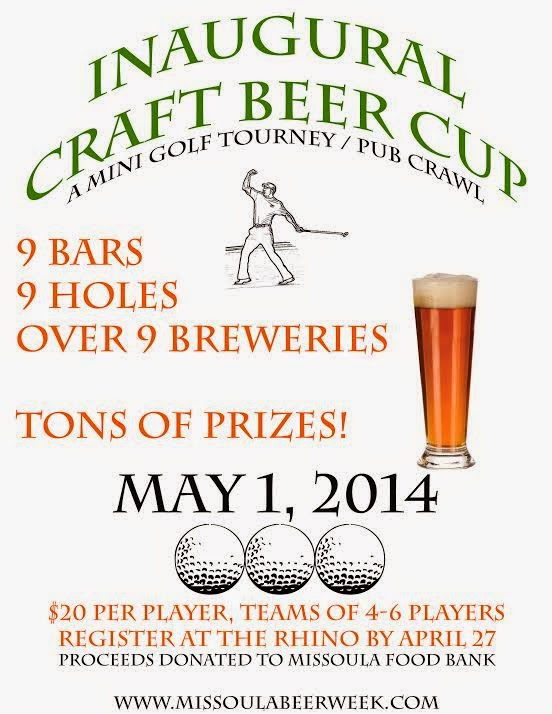 To register, head to The Rhino at 158 Ryman St. and ask for the sign-up information.  Registration must be completed by
April 27, but several teams have already registered, so don't delay!
On May 1, Ninkasi Brewing Co. will be sponsoring the packet at James Bar between 5:15 and 5:45 with a shotgun start at 6:00 p.m. Proceeds from the event will be donated to the Missoula Food Bank.
Participating breweries include: Big Sky Brewing, Bayern Brewing, Kettlehouse, Great Northern Brewing, Flathead Lake Brewing Company, Elysian Brewing, Tamarack Brewing, Draught Works, and New Belgium Brewing. The after-party at the Top Hat Lounge is sponsored by Iron Horse Brewing.