Draught Works Brewery will again kick off Missoula Craft Beer Week with its fantastic Bacon N' Beer Breakfast on Sunday, April 27 from 10 a.m. to noon. This great event sold out last year and is certain to do so again for 2014.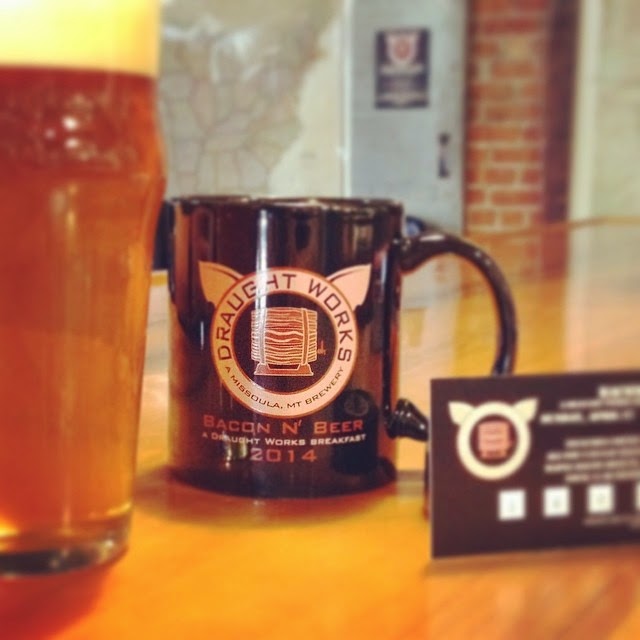 Photo Credit: Draught Works Brewery
Burns St. Bistro takes over the food this year and included in the $35 ticket price is all-you-can-eat bacon, maple bacon donuts, bottomless coffee from Missoula's Black Coffee Roasting, a cool coffee mug to take home and,  four 12 oz servings of Draught Works' beers.
Tickets are available only at Draught Works. Also new for this year is assigned seating, sure to alleviate some of the initial rush in the door.  As of yesterday afternoon, more than a third of the tickets have already been sold, so don't wait too long (you can call to reserve at 406-541-1592).
Stick around after the Bacon N' Beer Breakfast for Missoula Craft Beer Week's inaugural Brews on the Block (Party) taking place from 12:30 p.m. to 6:00 p.m. on Toole Ave. between Draught Works and Summer Sun. More details coming soon, but here's a list of the highlights:
Beer from Tamarack Brewing Co. and Draught Works
Three food trucks
Thirst Gear pedal pub mini rides
MT Beer Tours Info Booth and Raffle
Pong games and Home Brew Demo from Summer Sun
Outdoor theater from Warm Springs Productions
Open house at Freestone Climbing
Disc golf info table and disc gold holes
Mini golf hole and Registration for the Craft Beer Cup Tournament
Home brew and beer collectible swap meet.