Just more than a month away, the 3rd Annual Missoula Craft Beer Week is shaping up to be the best ever! Like last year, the week gets started with the incredible Beer-n-Bacon Brunch at Draught Works Brewery and continues through the grand finale, the Garden City Brewfest.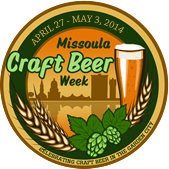 In between we've got an array of events that are increasing by the day.  Want to take an educational, beer-fueled ride on a pedal powered pub? We've got it. How about a block party with craft beer, music and food? Oh yeah.  Perhaps a mini-golf tournament with every hole sponsored by a different craft brewery?  Yes, you'll be able to sign up for that, too.  Beer and cheese paring? Yup. Beer and art?  Well, let me ask that again.  Beer and art?  That's on the agenda, too.
It's all in the works, so stay tuned for more information and make sure to follow www.missoulabeerweek.com and @mslabeerweek for all the scoop.
Plus, be sure to thank our Platinum level sponsors, Draught Works Brewery and the Missoula Downtown Association!  They are fantastic partners who are helping to make it all possible.