Run Wild Missoula's monthly Beer Run for February takes place at Sean Kelly's this Wednesday, February 26, 2014.  The good news? There's actually some natural light past 6:00 p.m. these days, as I discovered this evening after a long day at work.  The bad news?  It's snowing at an impressive rate this Monday evening as I type this.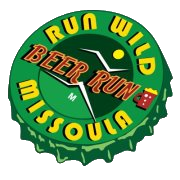 Still, it's a beer run and runners in Missoula have an impressive track record of not caring what the weather is. When it's time for a run, it's time for a run.
Even if you're not up for braving the elements on a cold February evening, head down to Sean Kelly's for an opportunity to register for the annual Run For the Luck of It 7 Mile and 5K races.  Sean Kelly's has long been a sponsor of this Run Wild Missoula race which begins and ends right outside the restaurant/bar on Pine Street on March 15.
I ran the 5k last year (see picture, below) and it's a wonderfully fun course, winding through the Westside and Northside neighborhoods of Missoula before hitting the lung-busting curly q's of the Northside pedestrian bridge. This St. Patrick's Day-themed race features a costume contest, post-race food, and a Highlander beer for the 21+ crowd.  Entrants also receive a "shamrific" unbreakable silicone pint glass.   
Sean Kelly's is at 130 W. Pine St.