Last October, homebrew clubs from around Montana came together to stage Montana's first state-wide homebrew competition.  Dubbed the Montana Mashup, the competition featured two days of judging at Bridger Brewing in Bozeman with 129 beers entered across nine categories.
The winning beer from each category moved on to a final round with the top scoring beer named Best of Show.  Clint Nissen's Saison won that honor and with it, the grand prize: getting to brew his beer on a commercial scale with Head Brewer Daniel Pollard at Bridger Brewing.
Clint, who lives in Lolo, MT, spent the past weekend at Bridger Brewing for this chance of a lifetime.
I caught up with Clint to find out how things turned out. 
__________________
Growler Fills: First, congratulations on winning Best of Show in the 1st Annual Montana Mashup. What was it like to realize you'd been chosen as the big winner?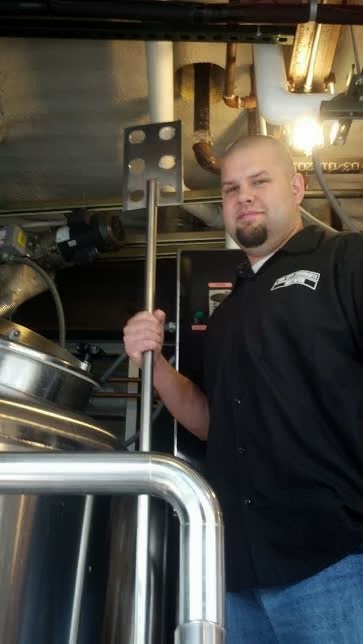 Clint Nissen mans the mash paddle.
Clint Nissen: Well I'm not a facebook user so I'll have to thank my buddy Jeff for letting me know right away when he saw that I had won. I was out in Florence at the Rustic Hut when I got his text message and I was shocked. I about fell off of my bar stool when I got his message. I knew the beer was good but that good? Really?
GF:  How long have you been home brewing? What kind of equipment do you use?
CN: I've been a homebrewer since 2009. I did about 5 or 6 batches of extract brewing before deciding to go to all-grain. I now use a fairly simple all-grain brewing system. My mash tun is a Home depot 10 gallon beverage style cooler with a stainless steel braid for filtering. Boil pot is an old keg with the top cut off. I don't have a lot of storage space at home so most of my brewing equipment gets stored in the shed.
GF: Walk us through what the brewing process was like.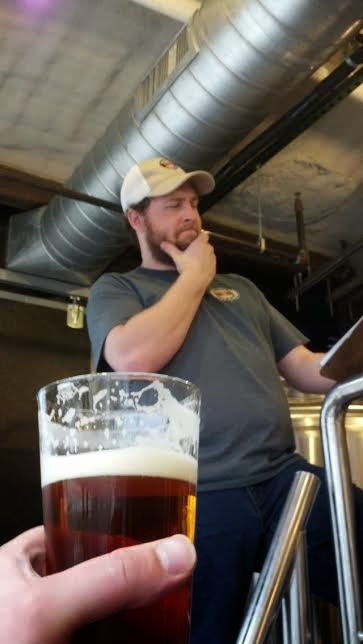 Toasting Head Brewer Daniel Pollard
CN:   (Head Brewer) Daniel and I set up this last weekend (Nov. 30 and Dec. 1) as the brew dates.  I drove over to Bozeman on Saturday morning and helped prep for brew day and worked on other stuff around the brewery with him. We used the yeast I brought over which was a cake from a 10 gallon batch. We pitched the yeast cake into the 10 BBL fermenter with 11 gallons of water and 12lbs of light dry malt extract to get the yeast going and have enough slurry for our wort the next day.
Next we milled all the grains and made sure all the other ingredients were measured and ready for the next day: 521 lbs two-row, 157 lbs wheat, 28.5 lbs Vienna malt, 15.5 lbs acid malt; 60 minute hops, 2lbs 8oz (we subbed a new experimental hop called 5056 here) and 10 minute hops, 3lbs Motueka; and 47.5 lbs candi sugar.
Brew day went great. My arms got a good workout cleaning out the mash tun. After all of the wort was transferred into the fermenter we pulled off 5 gallons to fill up my carboy and I took it home with me. It is fermenting away strong now. I had a great time and enjoyed the brewery and people in Bozeman.
GF: Aside from the differences in scale, how did brewing on commercial equipment compare (or not) to homebrewing?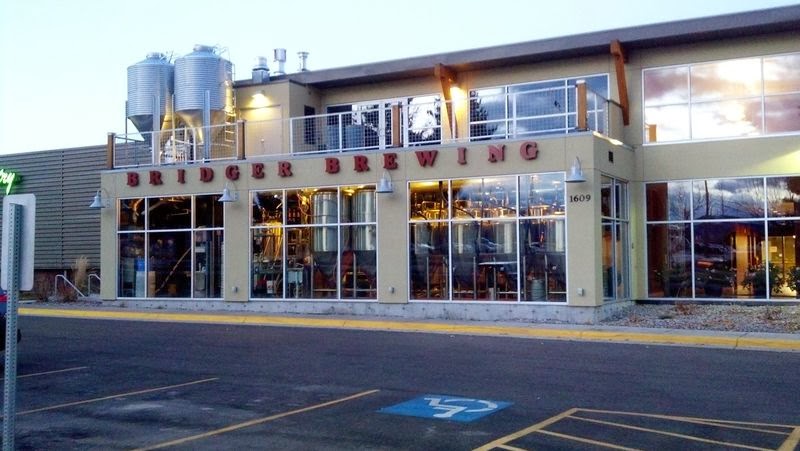 Bridger Brewing
CN: I must say that although you go through exactly the same process brewing on commercial scale as you do homebrewing, the commercial scale is more time involved. It takes time to mill 700 plus pounds of grain for example. It also takes a considerable amount more time to transfer the wort to the brew kettle. Other things homebrewers really don't have to worry about are major factors in commercial brewing like the temperature of the grain. Also, the constant use of clamps and gaskets.  I don't use these in homebrewing – some do, I know – but man oh man they are constantly moving hoses and lines around in commercial brewing to pump cleaners through things, harvest yeast, transfer wort, etc.
GF: What was it like working with the folks at Bridger Brewing?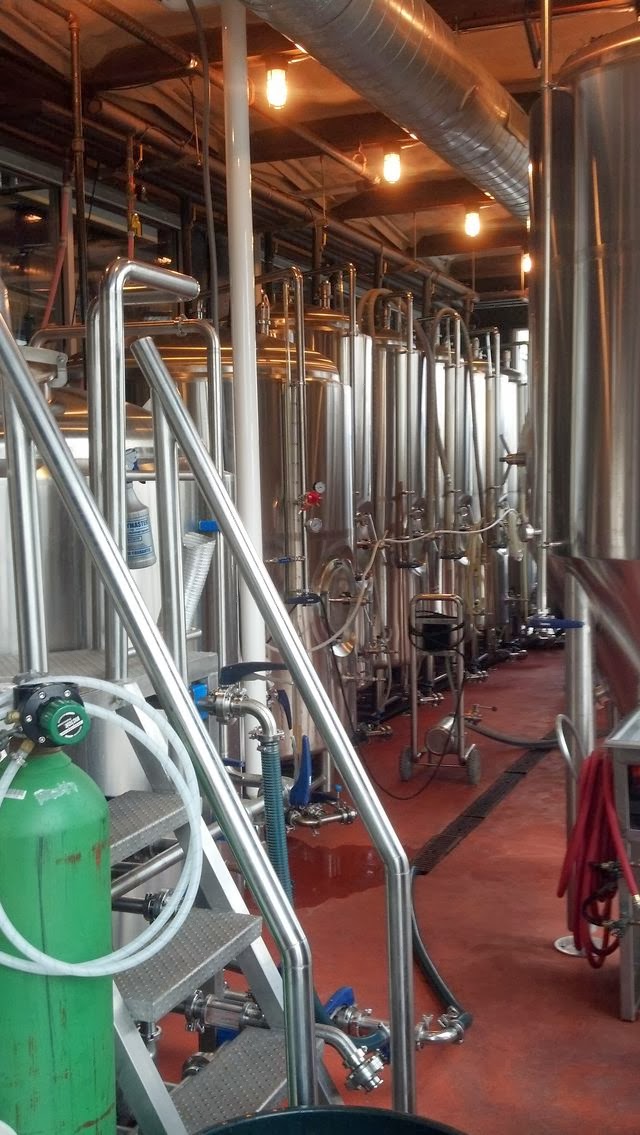 Bridger Brewing could not possibly have been more welcoming when I was there. Dave, Jim, Daniel, Linda, and Rick were all wonderful people and made me feel like family. The rest of the staff was extremely friendly as well. I can't wait to go back in a month or so for the release party.
GF: What tips do you have for homebrewers who want to enter competitions?
CN: I think the most important thing I've found is to not get discouraged because of a bad batch or a beer you make that you don't like. I've made several that just didn't turn out the way I wanted them to and others that were just plain bad. I try to learn from my mistakes and do better the next time. Just keep brewing.
GF: What's next in your beer world?
CN: I plan to continue as a homebrewer. I've always been the competitive type so I love the competitions and the feedback. I love to make beer that people enjoy. So I will continue to enter competitions as they come along. As far as going 'pro' or anything of that sort it would be in the distant future if ever for me.
____________________
Thanks to Clint for giving us a a look inside something many of us would love to have an opportunity to do someday.  Thanks, too, to Bridger Brewing for this gracious grand prize.  Bridger plans on holding a release party in a few weeks, so keep your eye out for the details. 
Missoula's homebrew club, Zoo City Zymurgists, won the club trophy for the highest scoring beers and with it, the opportunity to host next year's Montana Mashup competition.
In the meantime, just keep brewing, as Clint says, and look for a homebrew competition near you.
Note: All photos courtesy of Clint Nissen.