The October Run Wild Missoula Beer Run gets running at 6:00 p.m. tonight (Wednesday, October 30) with its annual Halloween-themed bit of fun.  Costumes are welcome and encouraged and for the first time you'll have four running routes to choose from.  Apparently the organizers want to cull the herd a bit to make easier pickings during the zombie apocalypse.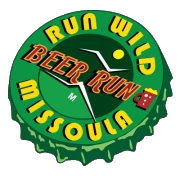 This month's run heads to Flathead Lake Brewing Co. of Missoula where you'll have the opportunity to enjoy some fine craft beer and tasty food with your sweaty, bedazzled cadre of costumed runners.  Ignore the "wtf, halloween is tomorrow"  looks from the less engaged patrons.  FLBC of Missoula is at 424 N. Higgins Avenue.
Here are the routes.  "Hilly" and "flat-ish" options for three and five mile runs.