There are many things to love about fall in Montana.  One of my favorites is the realization that I do, in fact, have the fitness to run.  The heat and strong, direct sun of July, August and good chunks of September have a way of turning the most innocuous runs into struggles of epic proportions.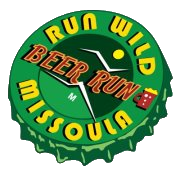 Yet, the cool temperatures and rainfall of September bring a stunningly immediate transformation to running, converting breathless, sweaty feats of sluggish plodding into energetic, pleasant trips through Montana's fall scenery.
You can celebrate this transformation tomorrow with bucket loads of fellow fall-centric runners at Run Wild Missoula's monthly beer run on Wednesday, September 25, 2013 (that's tomorrow if you're reading this on . . well . . . Tuesday the 24th.) For September the run heads to Kettlehouse Brewing Co.'s southside taproom at 602 Myrtle St. in Missoula.
Five mile and three mile options are available for the run which begins at 6:00 p.m.  Here's the map: