The Annual Montana Brewers Association's Fall Festival takes place this Saturday, September 28, 2013, at Caras Park in Missoula. It's the fifth year for the MBA's fall festival and the second consecutive year to be held in Missoula.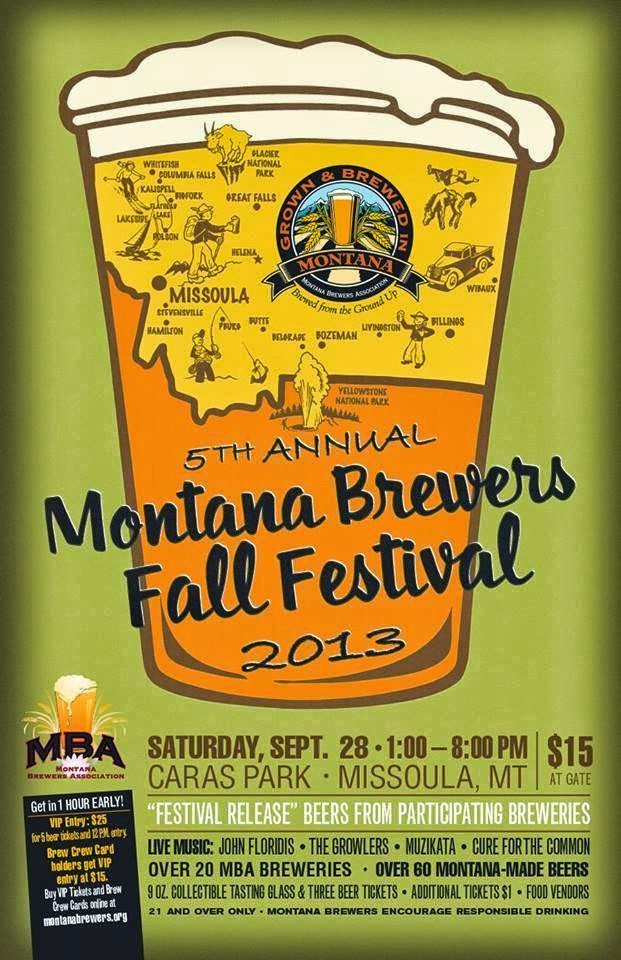 Last year's MBA Fall Festival set records for the number of beers and the number of attendees. Those records look ready to fall with more than 80+ Montana-made beers expected and a forecast for great fall weather (sunny and 69 degrees). Our recaps and photo albums from the 2011 and 2012 Fall Festivals are here and here.
The Festival features all Montana-made beers from the MBA's member breweries. Regular hours for the Festival are from 1:00 p.m. to 8:00 p.m. V.I.P tickets are available which allow entry an hour earlier at 12:00 p.m.  Special fall festival release beers will be tapped starting at 1:00 p.m. and at 4:00 p.m., ensuring a wide variety of beers throughout the event. 
Live music will be provided by John Floridis, The Growlers, Muzikata and Cure for the Common. Food vendors have been selected based upon their support of local products and willingness to use environmentally sound practices and include: Masala, Family Meal, Clove Cart Pizza, Korn Utopia and Double Front Cafe.
VIP Tickets are $25 and include early entry, a 9 oz tasting glass, and 5 beer tokens.  Regular admission is $15 which includes 3 drink tickets and a 9 oz tasting glass.  Brew Crew Card members also get early entry for $15 which includes the glass and 5 drink tokens.
Advance tickets sales (avoid the line) are available by clicking here.  Here's a look at the beer list which was accurate as of last Wednesday: