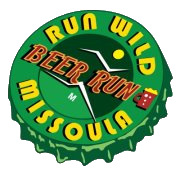 Wednesday, June 26, Run Wild Missoula's monthly beer run takes it's yearly turn at Kettlehouse Brewing Co.'s northside location which doubles as a fundraiser for one of the best running clubs anywhere.  It's Kettlehouse's Community UNite and $0.50 of every pint sold between 5:00 p.m. and 8:00 p.m. will be donated to Run Wild Missoula.
Since Run Wild's members and friends set a record number of pints sold a couple of years back, other community organizations have put out the call to set the bar even higher.  Word on the street has it that the top count currently stands at 610.  You know what to do.
The Beer Run part of the event gets started at 6:00 p.m. for a three or five mile route into the lower Rattlesnake area of Missoula.  It's a great place to run, so if you're looking for added encouragement, there it is.  Meet at Kettlehouse's northside location at 313 N. 1st St. West for a pre-run pep talk.
Here are the maps for the runs: