Montana's craft beer fan whippersnappers might not realize just how good they've got it.  With 40 breweries and more on the way, its easy to forget the plethora of craft beer choices is a relatively recent perk.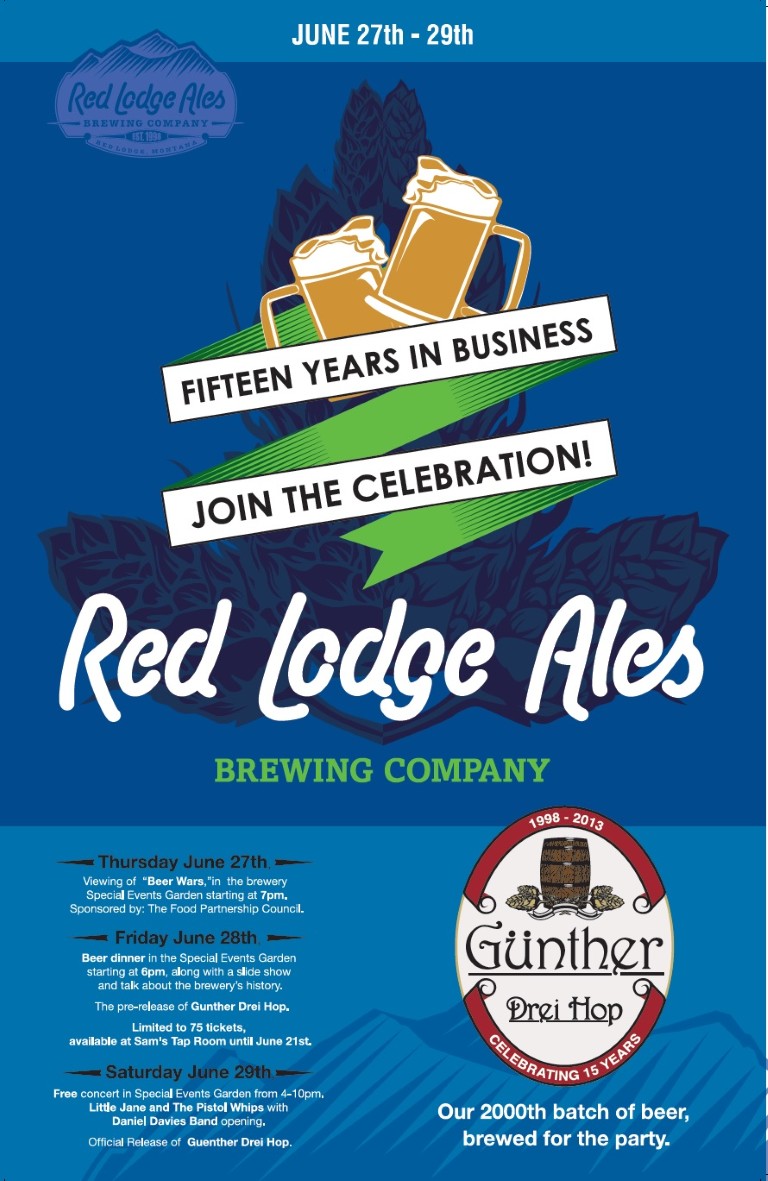 Which makes it all the more fun to celebrate a Montana brewery that has been around a while and experienced more than most.
Red Lodge Ales celebrates its 15th Anniversary this year and is throwing a series of fun events June 27 – 29 in Red Lodge, MT, including a screening of the movie "Beer Wars," a Beer Dinner, a free concert and a very special 2000th batch of beer: Gunther Drei Hop IPA. 
Here are the details direct from Red Lodge Ales' Doug "Beerbarian" Bailey:
Red Lodge Ales Brewing Co was started in 1998 by Sam Hoffmann. Originally from the Boston area, he came to Red Lodge following a girl, and began home brewing in his garage. In 1998 he began brewing commercially in downtown Red Lodge in the back of The Ale House as H&H Brewing, then quickly outgrew the space moving to the old Tap Room in 2000. 
In 2009, the new 12,000 sq ft Brewery, Tap Room, and Beer Garden was finished on North Broadway. The new facility boasts the largest Solar Thermal array in the state of MT* as well as several other green features including a Free Aire system that uses the cold mountain air to cool the beer rather than refrigerant! Mountain water, heated by mountain sun, turned into beer, and chilled by mountain air! 
2013 is the 15th Anniversary and in celebration of the 2000th batch, a special beer is being made, Guenther Drei Hop IPA! A Burton Style IPA, it is being aged and dry hopped in oak barrels with an experimental hop variety from Roy Farms. It promises to be amazing! The beer will be unveiled at the 15th Anniversary Beer Dinner on Friday 6/28 with a paired menu, and a slide show about the history of the brewery presented by Sam himself. 
On Saturday 6/29 is the big party! Starting at 4pm, The Daniel Davies Band and Little Jane and the Pistol Whips! The Guenther Drei Hop will be on tap, and special sausages locally made with Red Lodge Ales beer and brewing ingredients will be available! Head on down and celebrate with the Brew Crew!
The beer dinner included locally sourced foods from 4th Ave. Meats and City Bakery and prepared by chef Barrie Boulds. For more details on the dinner, click the poster below.
For more details on all the events, check out Red Lodge Ales' Facebook page: https://www.facebook.com/redlodgeales, send them an email: doug@redlodgeales.com, or give them a call: (406) 446-0243.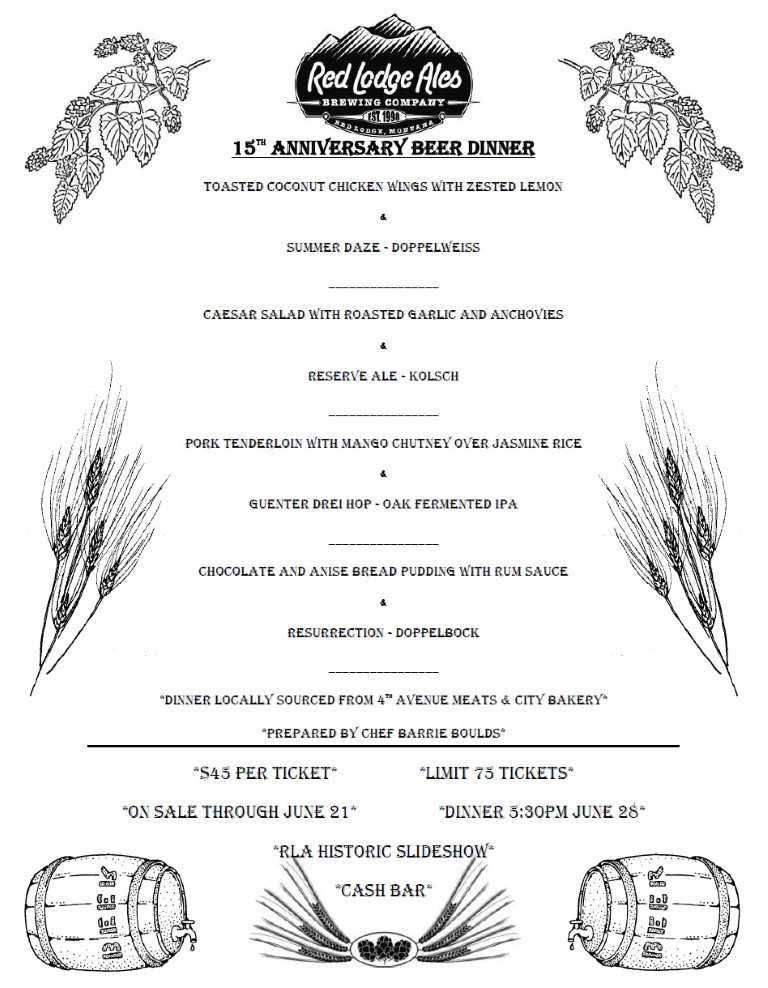 _________________________________
* The City of Missoula is now laying claim to the largest solar array in MT with the opening last month of its new parking garage.  However, Red Lodge Ale's solar array is used to make beer.  I think we can all agree that makes Missoula's far inferior no matter what its size.