I like The Session, a/k/a beer blogging Friday.   It's an opportunity once a month for beer bloggers around the world to write about a common topic. A different blogger chooses a topic and "hosts" that month's session, providing a round up of all the responses.  Topics range from the whimsical to the serious and the diversity of responses and perspectives is always interesting to read.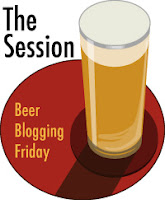 Started in 2007, this month marked the 75th Session topic.  Last August, I set a personal goal to regularly take part for at least a year, figuring the topics might help challenge me to write about new issues while increasing the variety here at Growler Fills. I've done well up until this month, but I've got an excuse (or two).
This month's session was hosted by Chuck at Allbrews who writes:
In this Session, I'd like to invite comments and observations from bloggers and others who have first-hand knowledge of the complexities and pitfalls of starting a commercial brewery. What were the prescient decisions that saved the day or the errors of omission or commission that caused an otherwise promising enterprise to careen tragically off the rails?
It's an interesting topic, for sure, but . . . uh . . . . you kind of left me out, Chuck.  The Session is an opportunity for bloggers from all walks of life and all parts of the world to write about a common topic.  Inviting only those with first hand knowledge of the topic to participate  . . . . well . . . . I take no offense, but the topic misses the point of The Session.
Oh, I also missed the deadline for this month.  As sexy, exciting and fun as it may sound to co-organize last week's Missoula Craft Beer Week, it doesn't leave much time for the blogging side of things. 
Until next month . . .