Rogue Ale's Brewmaster John Maier made news-of-the-weird variety last year when word broke that Rogue planned to create a beer using yeast harvested from John's beard.  What seemed like a late April Fools joke turned out to be a humorous reality.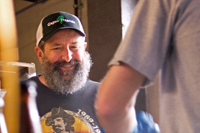 Rogue initially collaborated with White Labs, one of the country's largest brewing yeast suppliers, to create a wild yeast strain from Rogue's hopyard. Reportedly, when initial attempts failed, nine beard follicles were cut from John's beard as a joke, but turned out to contain a perfect yeast for brewing beer. 
"The Beard" is now making guest appearances with two Montana stops this Friday and Saturday in Missoula and Kalispell, respectively. First up is a stop at The Rhino in Missoula on Friday, May 24, where you can meet The Beard and enjoy pints of a Rogue Ale or two.  The Rhino is at 158 Ryman St.
Then, on Saturday, May 25, Kalispell's Split Rock Cafe is hosting a five course tasting dinner paired with Rogue's beers beginning at 5:00 p.m.  For tickets stop by Split Rock Cafe at 30 2nd St. E. in Kalispell, or call (406) 890-7577.