Tonight at 7:00 p.m. the founders of the forthcoming Big Medicine Brewing Co. invite you to take part in a Founders' Gathering in Helena, MT, at Tango Helena Studio (13 W. Placer – across from the downtown Post Office).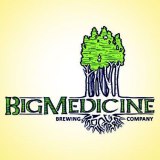 The Gathering is an opportunity to enjoy Brazilian hors d'oeuvres and beer and hear about Robert Rivers' and Fernanda Krum's plans to build the country's first brewery and center for positive change in Missoula.  More info about tonight's event can be found here: https://www.facebook.com/events/104610003074565/.
Robert (a Helena native) and Fernanda (a native of Brazil) have both worked internationally in the humanitarian assistance field. As they formed plans over a beer to create a new center for positive change, it occurred to them it might be possible to use the positive, social effect of craft beer to help bring people together and provide a means to help the center become sustainable.
Indeed, we've seen it repeated in all corners of Montana. Our local breweries and their taprooms have become social centers, where friends and family gather to relax, catch up on the news and connect in many ways.
For those unable to attend tonight to hear about the project in person, there is a two part PBS interview with Robert and Fernanda here:  Part 1 . . . . Part 2.  Facebook page is here.