This month's Session* topic is hosted by Adam at Pints and Pubs. He raises the topic of doing a beer audit  and writes:
Once or twice a year I take a beer audit. I open cupboards and boxes and just have a good look at what's there. . . . .  So, I'm interested to know if you take stock of the beers you have, what's in your cellar, and what does it tell you about your drinking habits. This could inlcude a mention of the oldest, strongest, wildest beers you have stored away, the ratio of dark to light, strong to sessionable, or musings on your beer buying habits and the results of your cellaring.
You can see what's in my beer cellar and fridge by clicking on the "Fridge Roll" tab near the top of the site.  I keep the list for a couple of reasons.  It's fun, for one, and I thought it would be a way to find new beer trading friends. Both have proven to be the case.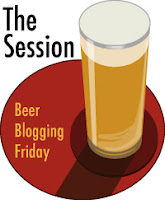 That said,  I came to the realization a few months ago that I have accumulated too much beer.  I can look at my stash and read it like a book identifying my beer buying habits, some of which I am now working to change.
Most of the stash are ones I bought outside of Montana on trips to locations with far better distribution. The plethora of new choices made it easy and intoxicating to grab things from the shelf with the promise of new adventures to come.  Many of those fell into two distinct categories: 1. beers I bought to save for a special occasion, and 2. beers I bought to have on hand for beer tastings with friends.  
I don't have that many special occasions.  And as it turns out, nearly everyone in the extended tasting group is in the same boat.  Amazingly, even with relatively few "special occasions" and far too many in that category, I still stand there staring at the fridge trying to decide if that particular day is special enough to open this beer or that beer.  (Yeah, I know, big-time first-world problem there.)
I also went through a time buying too much in anticipation of trading.  I enjoy an occasional trade for something fun and interesting.  To get the good stuff, you'd better have something equally enticing on hand to trade.  It turns out, I don't enjoy trading THAT much.
Then there's the whole cellaring thing. If Abyss tastes this good now, just wait until you cellar it for a year or two! At least that's the thinking.  It is indeed fun to crack open a beer that's been in the cellar for few years or even a decade or two.  But I'm finding that aside from the novelty factor and occasionally enjoying a multi-year vertical of the same beer, the "wow" factor is rare.  Bill Night of It's Pub Night has a great article about a recent 10 year vertical of Jubelale along with similar thoughts about getting caught up in the whole cellaring thing. 
What does all of that mean?  I'm in reduction mode.  Which is harder than it sounds. Most of it is high gravity stuff.  We're talking 9 – 14% abv in 22 oz or 750 ml bottles.  Those aren't easy to crack open on your average week night.
These aren't complaints. They're lessons. For 2013 I plan to drink less and enjoy more, if that makes sense.  It's time to stop accumulating and free up some fridge space. They make more, after all.
Even better, it's time to see what these special occasion beers taste like on your average Tuesday evening on the back patio.  I'll bet they're pretty awesome.  Let me know if you'd like to help.
_____________________________________________
*Today is the first Friday in March which means it's time to take part in The Session, a collective effort of beer bloggers around the world to write on a common topic once each month.