Beer and cheese is one of my favorite pairings to do. It's a subject I covered in a decidedly uneducated fashion in The Session No. 51: The Great Online Beer and Cheese Off.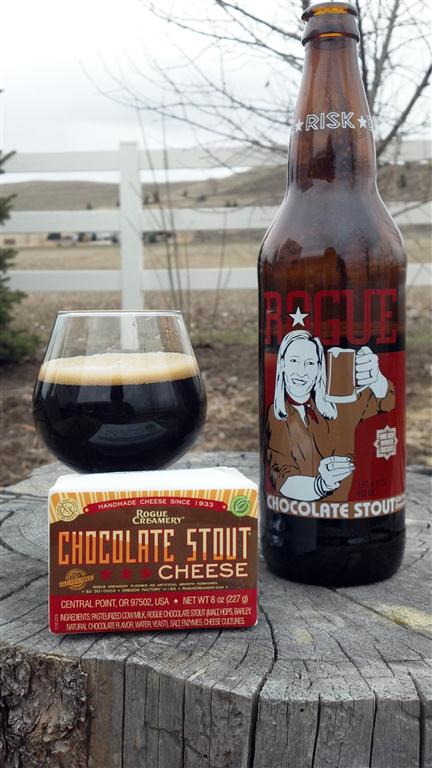 Perhaps its my fascination with the similar way in which a few simple ingredients can be turned into an unlimited variation of flavors. In any event, beer and cheese pair extremely well. Hopefully, Caffe Dolce will repeat their beer and cheese pairing evening for this year's Missoula Craft Beer Week.  It sold out quickly, was as educational as it was tasty, and definitely a favorite event of the week for many.
While cruising through Missoula's Good Food Store a couple of months ago, I ran across Rogue Creamery's Chocolate Stout Cheddar Cheese and was immediately intrigued.  Sure, beer and cheese is a great paring, but what about beer in cheese?
Rogue Creamery's Chocolate Stout Cheddar Cheese combines Rogue Ale's Chocolate Stout with the Creamery's classic, hand-milled cheddar cheese.  In their words: 
The beer is poured over the curd, allowed to meld, before it is hand dipped and pressed into blocks for aging. Savory and tangy cheddar notes are tempered by the sweeter chocolate and coffee flavors of the stout.
For my tastes, it's a very pleasant white cheddar, creamy with a slightly aged flavor and a nice little tang.  I don't taste any chocolate stout in it, but there is a earthy note in the cheese that carries over perfectly with the stout.  They are definitely on the same flavor plane.*
Rogue's Chocolate Stout is a classic chocolate stout, though, true to form with Rogue, has a bit higher bitterness than most chocolate beers I've tasted.  Chocolate is immediately apparent in the aroma, and flavors of milk and dark chocolate sit on top of a moderately bitter, medium-bodied stout.  At 6% abv, it lets you enjoy the flavors without sending you over the edge.
What does any of this have to do with a picture on a log on a cloudy day in March?
Nothing.**
What's your beer pairing of choice? 
____________________________
* I totally made up the phrase "flavor plane," but it makes sense to me.
**  It doesn't always have to make sense.