This month's Session* topic is hosted by Ryan Newhouse, fellow Missoula Craft Beer Week creator and occasional contributor here at Growler Fills, through his Montana Beer Finder site.  Ryan came up with a Valentines Day theme and asks us all to explain how we love beer. He writes:
Think of this topic and discussion in terms of being in a relationship . . . I'm not suggesting we need to be thinking of beer all the time, or as much as we think of our partners (though some of us might!), but I'm curious to hear what you beer lovers do to show appreciation for good craft beer.

Perhaps it's that you buy a case of your favorite seasonal and share it with others every chance you get, or you commit yourself to only drinking that beer until it's gone. Perhaps whenever you travel to a new place, you seek out as many local beers as you can instead of finding your favorites. Perhaps you don't even buy bottled beer, but instead fill your growlers and drink at local taprooms. Perhaps our writing and blogging about beer shows how we love beer.
As Ryan puts it, he's not asking "why" we love beer, but "how."  Honestly, I don't even have a good idea yet for Valentines Day, but explaining "how" I show my love for beer should be obvious from this blog.
Yes, I drink it, share it, and brew it.  But more than anything else, I communicate it.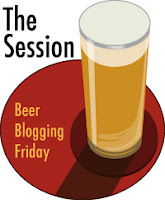 I've now written 500 posts in the more than three years of Growler Fills. I still occasionally ask myself why.  After all, this isn't my job and it costs hard earned cash from the day job to do it. Yet, it isn't too different in some respects from my day job.  As an attorney, I spend my days writing: advocating, explaining, cajoling, arguing – communicating.  When the day is done, it's great to turn to a subject as fun as beer.
You see, "beer" isn't just some inanimate object.  It's a story about people. The people who make it and the people who drink it. I've never found anything that can turn strangers into friends faster than beer.  That has nothing to do with its intoxicating effect and everything to do with its social nature. Exploring these stories is how I show my love of beer. 
_____________________________________________
*Today is the first Friday in February which means it's time to take part in The Session, a collective effort of beer bloggers around the world to write on a common topic once each month.