Billings has six. Missoula four.  Bozeman, Helena and Great Falls have two each. Butte is soon to get its second one.  Heck, even Philipsburg and Wibaux have one.
For some reason, Kalispell has long remained the only one of Montana's seven "large" cities without a brewery.  Missoula's Bayern Brewing Co. kicked things off in the modern era 25 years ago. Smaller towns like Hamilton, Stevensville, and Belgrade (two each) have had the good fortune to embrace the benefits of a community brewery for many years.
That's about to change as discussed in this story from Kalispell's Daily Interlake.  Long-time homebrewer Cole Schneider, along with his wife and fellow U.S. Telemark Ski Association team member Maggie Doherty, have the brewery under construction at the corner of 4th and Main Streets. (Incidentally, that's a couple doors down from some of the best coffee in Montana at Colter Coffee Roasting.)
I've visited Kalispell often and always found it to be an odd place for beer.  It's in a similar place Great Falls was about 2 years ago – no local brewery, a few good taps at a couple of places around town, but overall lacking in any real craft beer scene.  Then, Bowser Brewing Co. opened, the Steinhaus switched its taps over to 21 Montana brews and, more recently, The Front Brewing Co. opened and everyone realized there was a huge pent up demand for good beer.
Kalispell has Hops Downtown Grill which is doing great things with beer and food.  Moose's Saloon has the largest selection of taps, but few rotate with anything unique. The North Bay Grille has had several  interesting, rotating taps for a few years, but the quality and consistency of the food and service has taken a real nose dive.  Tamarack, Flathead and Great Northern breweries are all nearby (and soon Desert Mountain), but Kalispell has not had a brewery to call it's own.  As Montana beer lovers know, there is something very special about our local tap rooms.  In many cases, they've become a kind of community center – the English pub of olden days. 
There is every reason to think Kalispell is about to embark upon the same path.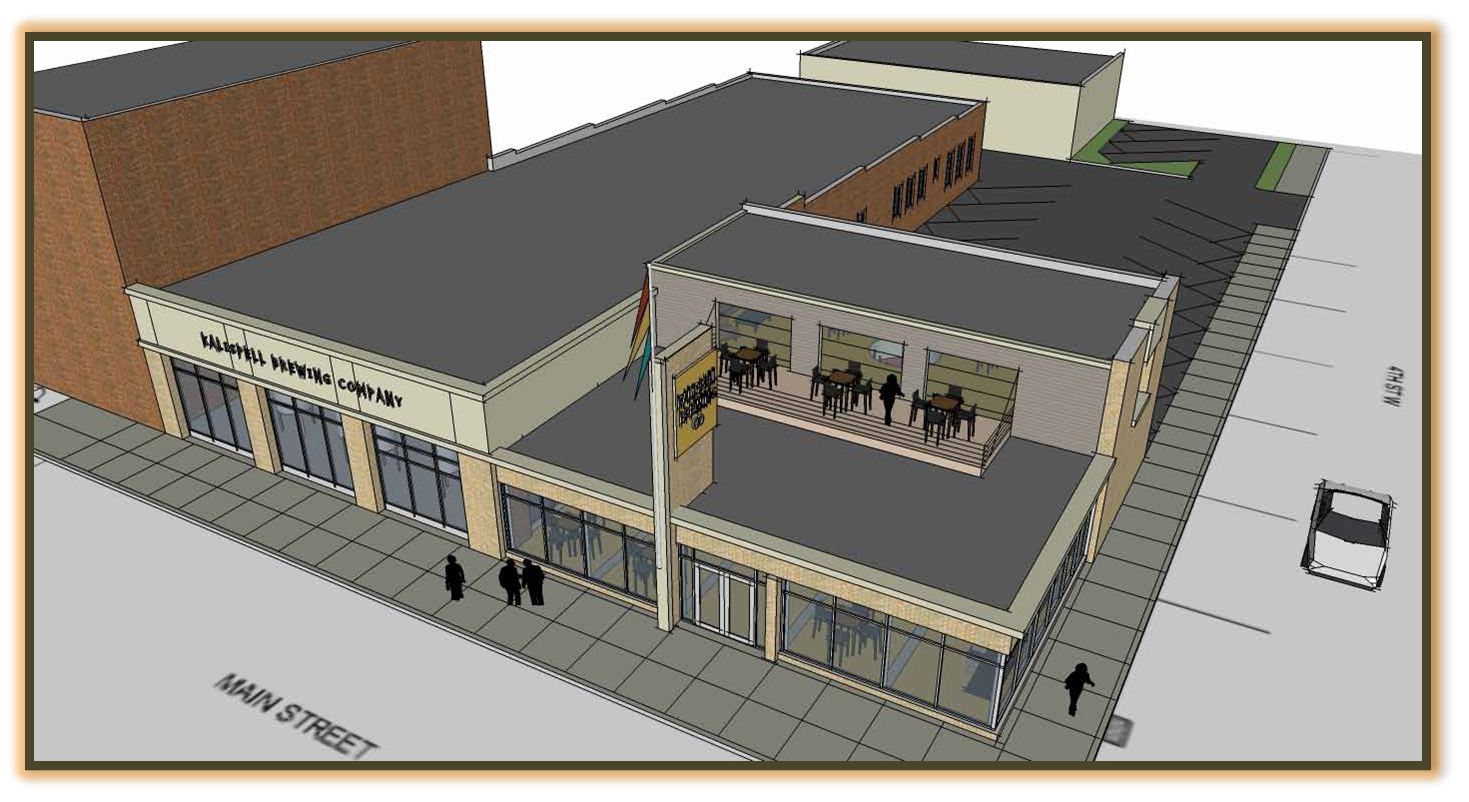 Rendering from CTA presentation to Kalispell Chamber of Commerce