This month's Session* topic is hosted by David J. Bascombe at Good Morning. A blog about beer, mostly. He raises the topic of beer hype and writes:
Back in the summer, I shared a bottle of Westvleteren 12 with my brother and my father. Whilst I was aware of it's reputation as "best beer in the world", they were not. Whilst we all enjoyed it, we all agreed that we much preferred the other beer we had that night. The question that came into my head was this…
If I had told them it was the best beer in the world, would their perceptions have changed?
How much does hype have an effect? Are we much better off knowing nothing about a beer, or is it better to have the knowledge as to what the best beers are?
Which beers do you think have been over-hyped? How do you feel when a beer doesn't live up to it's hype.
Is hype a good or bad thing for beer?
Hype is unavoidable. It's ingrained in our nature. We hype our favorite teams and sporting events. Our favorite restaurants. Our cities and towns. And of course, our favorite breweries and beers. If there's even a hint of subjectivity to the subject, we'll turn it into a top ten list. 
For starters, I'm not interested in answering the question about which beers I think have been over-hyped.  Take a look at the side bar on the right and you'll find the mantra that forms the basic attitude here at Growler Fills:
My favorite beer might be your favorite beer. Your favorite beer might be my favorite beer. More likely, we have quite different tastes, but can gather round the bar stool and enjoy a good debate about the "best" beer – and both be right.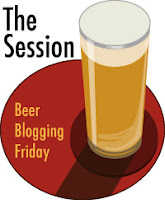 I've had eight of the current top fifteen beers in Beer Advocate's top beer list (as of Friday, December 7, 2012).   Conversely, I've only had five of top fifteen in Rate Beer's list.  See, we can't even agree on which beers should get the hype.  Plus, while certain beers are generally considered to be the best in their class, whether a beer deserves the hype is directly proportional to whether it's a style you gravitate toward.  I'd be a poor judge, for example, of how a Cantillon stacks up against the best lambics in the world.
Is hype a good or bad thing for beer?  Both.  Hype helps build brands. Hype creates interest. Interest creates discussion, debate. Interest provides the impetus for continued experimentation, refinement, contemplation.  Hyping the craft beer industry helps gain new fans and supporters which increases influence.
But hype has a downside, too.  It's a topic I pondered recently, before knowing it would be the topic for Session No. 70. Pondering it again, I think the same thoughts apply:
There are beers with mythical status like Dark Lord, Kate the Great, Kentucky Breakfast Stout, and Pliny the Younger which require good fortune merely for the chance to try them.  Many live up the hype, but I've often wondered at what cost.  The hype creates black markets, undue competition, and hard feelings.

Worse, it may leave you feeling like your local brewery – far removed from the fame and hype – doesn't measure up.
The recent GABF competition results demonstrated that fantastic beers can come from your local brewery just as likely as they may from the Founders, Three Floyds and Russian Rivers of the world. It's a lesson well worth remembering as we chase the mythical beers on our horizons.
I am not immune to the hype. While I'm pretty good at trying anything and everything on tap, I admit I'll sometimes sneak a peek at various ratings before I plop down significant cash for a bomber or six pack I've never seen. I've probably missed out of a few "new favorites" because I've bought into the hype – or lack thereof.  To combat that problem I've started picking up a few bottles I know nothing about whenever I go on a beer buying spree.
Exploring craft beer is what got me into this whole blogging thing.  It's what binds us all together in our common quest.  So let's gather 'round that bar stool, chase the mythical beers with all the hype, and remember the next "best" beer might be the one-off at our favorite neighborhood brewery.
_____________________________________________
*Today is the first Friday in December which means it's time to take part in The Session, a collective effort of beer bloggers around the world to write on a common topic once each month.