We recognize not everyone can get to Missoula this weekend for the Montana Brewers Festival (and it's 77 Montana brewed beers).  The good news for those who can't make it is there's plenty more to do in the beer world around Montana this weekend.
Murphy's Pub in Havre, Montana, is hosting it's 3rd Annual Liquid Microbrew Festivus on Saturday, October 6, from 4:00 p.m. to midnight.  There's a $5 cover to get in.  Once in, you'll be treated to two live bands and the opportunity to try out 29 Montana beers from 12 Montana breweries.  Ten beer samples cost $10, or you can throw down a $20 bill for 24 beer samples.  Murphy's will also have 9 wines and a variety of new liquors available.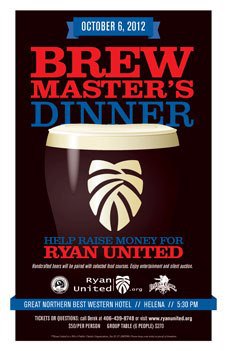 Helena, MT is the site for the 3rd Annual Ryan United Brewmaster's Dinner, featuring beer from Lewis and Clark Brewing Co. and Blackfoot River Brewing Co. and food from the Great Northern Best Western Hotel. The dinner will be held on Saturday, October 6, 2012 beginning at 5:30 p.m. and includes a silent auction and live entertainment.  The event serves as a fundraiser for Ryan United, a organization dedicated to improving child safety and eliminating child predation.  Tickets are $50 person, or $270 for a table of six. For more information, head here.