Question for you: Where is the one place you can find 77 beers from 21 of Montana's breweries all in one place for your tasting enjoyment? There's only one answer: The Fourth Annual Montana Brewers Festival at Caras Park on October 6, 2012.
Montana has many fun beer events, but nothing compares to the Montana Brewers Festival with 77+ beers, many of which have never before been released. Held the past three years in Bozeman, the Festival moves to Missoula for 2012. There's little doubt it will set new attendance records with Missoula's beer crazy residents.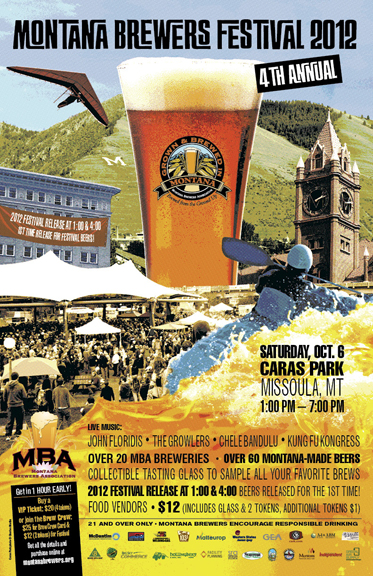 We took part in the festivities last year and enjoyed talking to the brewers, meeting other craft beer fans and marveling at the wide variety of beers. (Click here for pictures from last year's event.) This year's Festival takes place from 1:00 to 7:00 p.m. Tickets are only $12 which includes a glass and two beer tokens.  Additional tokens are $1 each.  For $20, you can purchase a VIP ticket which gets you into the Festival an hour early at 12:00 p.m. along with four beer tokens.
Among the 77 beers are 24 Festival Release Beers which have never before been released.  To relieve the pressure of getting to the festival right at the start, these beers will be available at 1:00 and 4:00 p.m. Festival release beers include ones like Karapiller Red Lager from Wildwood Brewing in Stevensville, Sheze Titian, a Belgian Blond from Neptune's Brewery in Livingston and Ursus Arctos Hefebilus Ale, an imperial hefeweizen from Glacier Brewing.
New this year is a two day conference following the Festival on October 7 and 8.  More information on the conference is available here. 
We'll have more coverage on the Festival and Conference in the week ahead.