According to Marcus Food's facebook page there is an English and Irish Beer and Cheese tasting event taking place tomorrow, Wednesday, August 8, 2012 at 5:00  p.m. at the Haymoon Downtown Flat in Whitefish.  The tasting includes 10 English and Irish beers along with various cheeses.  No word on the cost.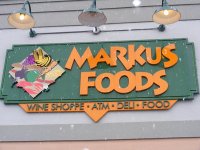 Marcus Foods, located just before the bridge over the railroad tracks leading out of Whitefish toward Whitefish Mountain, is by far the best retail selection of craft beer in the Flathead Valley.  They've got a nice mix of Belgian, English, and Irish beers to go along with some very good American ones.  They're one of the few places in Western Montana to get the recent collaboration from Deschutes and Hair of the Dog.
The Haymoon Downtown Flat is at 419 Second St. in Whitefish above the Wasabi Sushi Bar & Ginger Grill.  Sounds like a great event to try a variety of beer and cheese and meet some fellow craft beer lovers.  If it was this weekend, I'd definitely give it a go, but work in Missoula calls tomorrow.